THIS POST MAY CONTAIN AFFILIATE LINKS, MEANING I GET A COMMISSION IF YOU DECIDE TO MAKE A PURCHASE THROUGH MY LINKS, AT NO COST TO YOU. PLEASE READ MY DISCLOSURE FOR MORE INFO.
With this guide to the 29 best kayaking spots in Illinois, you're bound to find your favorite kayaking spot. Illinois is home to a variety of beautiful waterways, with rivers and lakes perfect for kayaking enthusiasts of all skill levels. From serene lakes nestled in natural landscapes to fast-paced rivers that offer a thrilling challenge, there is something for everyone.
The Importance of Choosing the Right Spot for Kayaking
While kayaking can be both fun and relaxing, it is important to choose the right river or lake that fits your skill level and preferences. The best kayaking spots in Illinois offer a unique experience that varies from one location to another. Some rivers are perfect for beginners while others require more advanced skills due to their rougher waters.
In addition, different spots have their own unique features to enjoy, such as hidden waterfalls, stunning wildlife, or scenic views. Selecting a spot that matches your interests can make your kayaking adventure even more memorable and enjoyable.
Overview of Kayaking in Illinois
Kayaking has become increasingly popular in Illinois due to its abundant rivers and lakes. Kayakers from all over the state enjoy exploring natural habitats while experiencing an adrenaline rush as they navigate rapids and currents.
Apart from recreational benefits, kayaking also provides health benefits such as improved cardiovascular fitness and muscle strength. The sport also encourages mental clarity by promoting relaxation while reducing stress levels.
Exploring the Best Rivers and Lakes for Kayaking in Illinois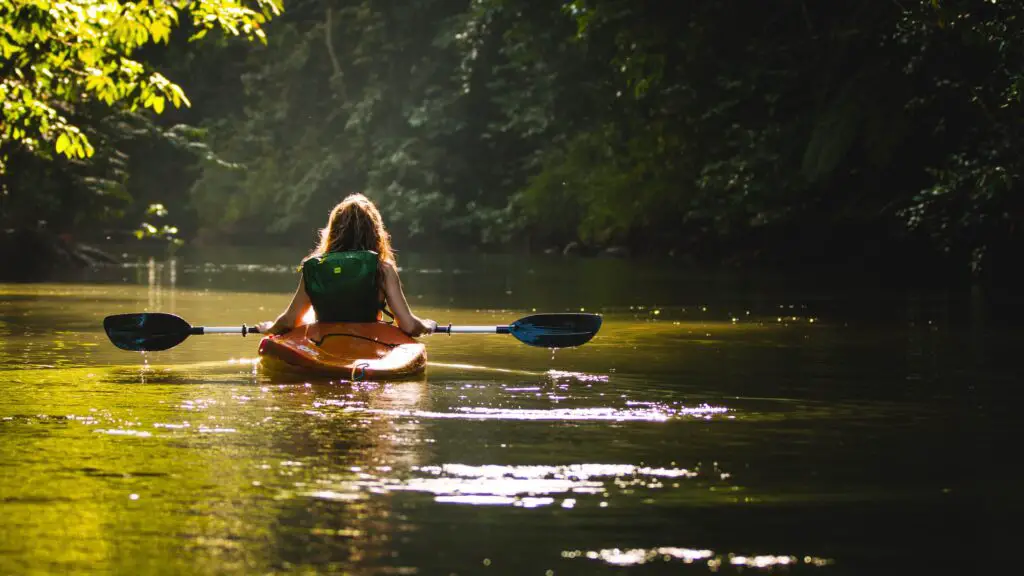 Are you an avid kayaker looking for exciting new destinations in Illinois? Look no further! This article is here to help you discover the 29 best kayaking spots in Illinois-rivers and lakes that are perfect for kayaking adventures in the state.
Whether you're a beginner or an experienced kayaker, I've got you covered.
Let's start with the top 10 rivers for kayaking in Illinois. Each river has its own unique features that make it stand out.
Top 10 Rivers for Kayaking in Illinois
Kayaking is a popular outdoor activity in Illinois, thanks to the numerous rivers and lakes that dot the state. Among the various waterways, some rivers stand out as top spots for kayaking enthusiasts. These rivers offer different experiences and challenges, making them an ideal destination for all skill levels.
Des Plaines River
The Des Plaines River stretches over 133 miles through Illinois before entering Indiana. It offers a diverse range of habitats, from urban areas to wetlands and forest preserves.
Kayakers can explore the river's varied scenery while enjoying calm waters with few rapids or hazards. The river is perfect for beginners looking for a pleasant paddle in serene surroundings.
Fox River
The Fox River winds its way through northern Illinois, covering more than 200 miles before flowing into Wisconsin. The river has different sections that cater to different skill levels, from easy-going paddles to class III rapids for experienced kayakers. The lower section of the river boasts beautiful scenery with tree-lined banks and occasional sandbars.
Kankakee River
The Kankakee River straddles both Illinois and Indiana, offering over 90 miles of navigable waterway perfect for kayaking enthusiasts. The river is characterized by scenic bluffs and rock formations that provide an exciting challenge to experienced paddlers while also offering tranquil sections suitable for beginners.
Sangamon River
The Sangamon River flows through central Illinois and covers over 250 miles before emptying into Lake Decatur. The river is ideal for those seeking a calm paddle on gentle waters surrounded by vast prairies filled with wildlife such as deer and beavers.
Rock River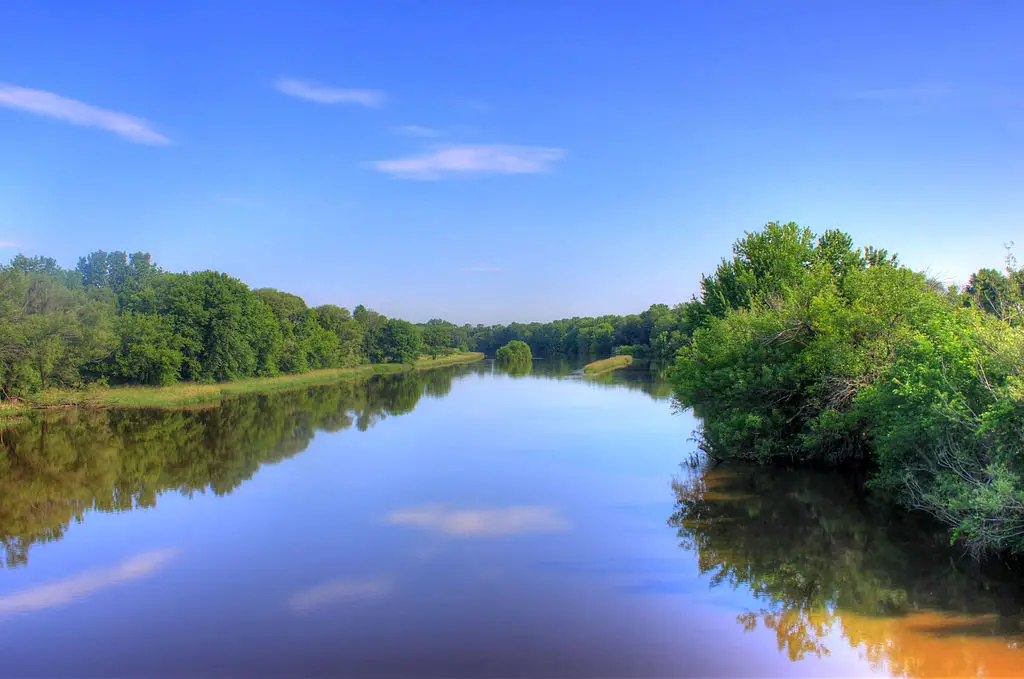 The Rock River flows across northern-central Illinois before entering Wisconsin, covering over 300 miles. Kayakers can take advantage of the river's gentle current, making for a relaxing and enjoyable paddle through scenic countryside dotted with small towns.
Mackinaw River
The Mackinaw River is a peaceful waterway that flows through McLean, Livingston, and Woodford Counties in Central Illinois. It covers over 130 miles and provides an excellent opportunity for kayakers to enjoy the beauty of rural Illinois while paddling on calm waters.
Vermilion River
The Vermilion River covers over 70 miles and flows from near Pontiac to the Illinois River. The river offers various scenic spots with beautiful rock formations that form rapids that can provide an adrenaline rush for experienced kayakers.
Pecatonica River
The Pecatonica River flows through northwestern Illinois near the Wisconsin-Illinois border, covering over 100 miles. The river offers easy paddling access with calm waters perfect for beginners looking for a relaxed paddle amidst scenic surroundings.
Illinois River

The Illinois River is the longest river in Illinois, flowing over 275 miles before emptying into the Mississippi. It provides numerous opportunities for kayaking enthusiasts to experience different scenery ranging from urban areas to wetlands and vast prairies.
Cache River
The Cache River located in Southern Illinois provides excellent kayaking opportunities where you can experience wildlife such as wild turkeys, deer, coyotes, and beavers while enjoying calm waters surrounded by cypress trees.
Overall, these top 10 rivers provide ample opportunities for different skill levels of kayakers to explore tranquil waters amidst scenic surroundings or challenge themselves on thrilling rapids all within reach in different parts of Illinois.
Check out my other articles on the best rivers and lakes to kayak in other states:
Best 20 Ohio State Parks for Kayaking
14 Best Lakes to Kayak in Wisconsin
14 Best Rivers to Kayak in Wisconsin
Best 7 Minnesota Lakes for Kayaking
Top 10 Lakes for Kayaking in Illinois
Illinois is home to many gorgeous lakes that offer a variety of experiences for kayakers. From serene surroundings to challenging waters, each lake has its unique charm. Here are the top 10 lakes for kayaking in Illinois:
Lake Michigan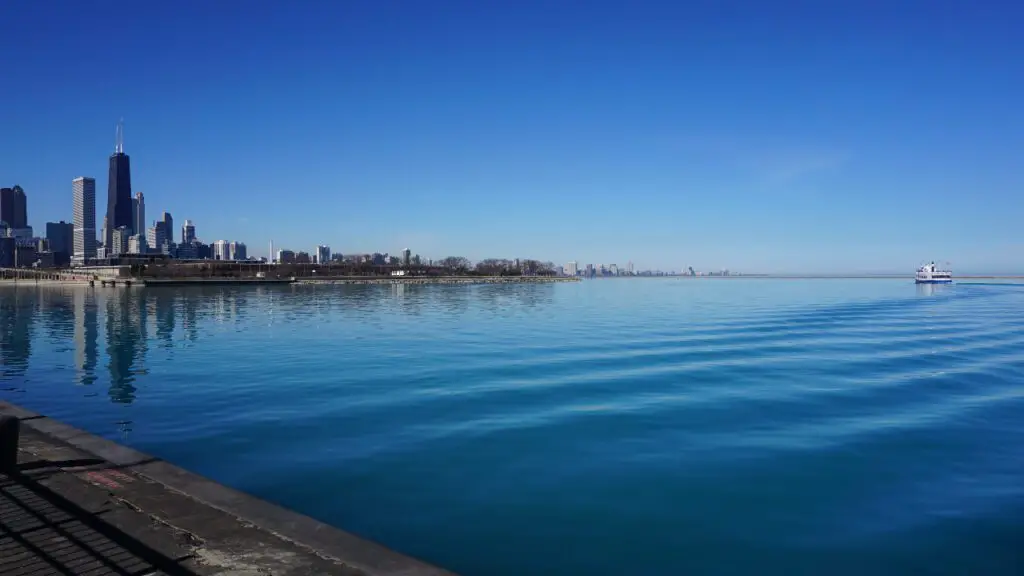 Lake Michigan is one of the most popular destinations for kayakers in the state. Its vast, clear blue waters make it a haven for nature enthusiasts and thrill-seekers alike. There are several launch points along the shoreline from which you can explore breathtaking views of Chicago's skyline or paddle out to nearby islands such as Beaver Island.
If you're looking for something more challenging, try kayaking near North Avenue Beach where you'll encounter strong currents. But be warned that this area is only recommended for experienced paddlers.
Lake Shelbyville
Lake Shelbyville may not be as well-known as some other lakes on this list, but it's certainly no less impressive. Surrounded by lush greenery, this picturesque lake offers calm waters that are ideal for beginners or anyone looking for a peaceful day out on the water.
There are several launch points around the lake, including Eagle Creek State Park and Forest Park Beach. Wildlife sightings are common here, with bald eagles and ospreys often seen soaring over the water.
Rend Lake
Rend Lake is an angler's paradise and a fantastic spot for kayak fishing enthusiasts. This massive lake covers over 18,000 acres and has plenty of coves and hidden areas to explore where you're likely to find bass hiding.
The lake also has several designated fishing areas perfect if you don't want to wander far away from your car or campsite when looking to cast your line. Visitors can rent kayaks at the Rend Lake Marina or bring their own.
Carlyle Lake
Carlyle Lake is a kayaking destination that offers both adventure and relaxation. Paddling through the lake's calm waters, you'll find hidden coves and sandbars perfect for picnicking or resting. The lake has a designated kayak trail, which takes you through beautiful, wooded areas and past historical sites.
Along the way, keep an eye out for bald eagles perched in trees overlooking the water. For those looking to camp overnight, there are several campgrounds around Carlyle Lake State Park that can be accessed by kayak.
Clinton Lake
Clinton Lake is a clear-watered lake with plenty of scenic opportunities for kayakers. The lake's calm waters make it ideal for beginners or anyone looking for a peaceful day out on the water.
There are several launch points around the lake, including Clinton Lake Marina and Weldon Springs State Park. Wildlife sightings are common here as well, as there are plenty of birds and other animals living in the nearby woods.
Fox Chain O'Lakes
The Fox Chain O'Lakes is an interconnected network of lakes that offer endless possibilities for kayaking enthusiasts. This chain of lakes offers excellent conditions for paddlers of all skill levels with plenty of launch points from which to start your adventure.
Kayakers can explore secluded coves or take on more challenging waters near islands such as Bluff Island or Grass Island. And if you're up for more than just kayaking, Fox Chain O'Lakes is also known as the "Water Sports Capital" with opportunities to indulge in jet skiing, water skiing, wakeboarding, and more.
Lake Springfield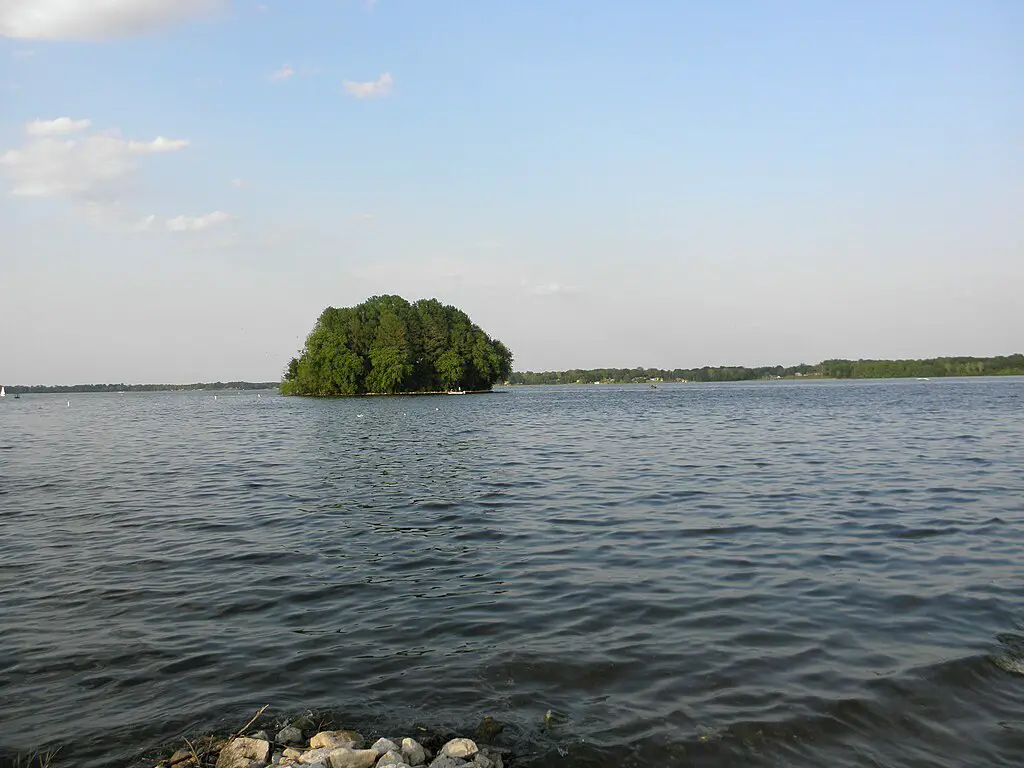 Lake Springfield is located in Illinois' capital city, Springfield. Despite being in the heart of the city, you'll still find a serene escape for kayaking enthusiasts. The lake's calm waters mean that it's perfect for beginners or anyone looking to relax on the water.
Kayakers can launch from several access points around the lake and explore its peaceful surroundings. Paddling near the shore, you'll pass by Lincoln Memorial Garden and Conservation Area where you can spot wildlife such as deer and birds.
Lake Decatur
Lake Decatur is a popular destination for bird watchers and nature enthusiasts. This picturesque lake offers plenty of opportunities to see wildlife up close, with ospreys and great blue herons commonly seen swooping over the water.
Kayaking at Lake Decatur is a calming and peaceful experience with plenty of public access points available. There are also several parks surrounding the lake where visitors can enjoy hiking trails, fishing locations, or have picnics with beautiful scenic views.
Lake Mattoon
Lake Mattoon is another great destination for families looking to spend a fun day out on the water. With shallow waters and easy-to-access beaches, it's perfect for children and adults alike.
There are several launch points located around Lake Mattoon State Park making it easy to get started on your kayaking adventure. While paddling through this tranquil body of water keep an eye out for native Illinois trees such as oak trees surrounding its shoreline.
Cedar Lake
Cedar Lake may not be as large as some other lakes on this list but don't let its size fool you! This charming lake has plenty of personality with rustic wooden cabins dotting its shoreline making it feel like a hidden gem in the Illinois countryside.
With clear waters surrounded by state forests, Cedar Lake offers natural beauty at every turn. Kayakers can launch from several access points around the lake and explore its peaceful surroundings by visiting nearby Rend Lake State Park, which is located just a short distance away.
Whether you're a seasoned kayaker or just starting out, Illinois' top lakes offer something for everyone. With a variety of conditions, you're sure to find the perfect spot for your next kayaking adventure in Illinois' beautiful outdoors.
Kayak Fishing Spots in Illinois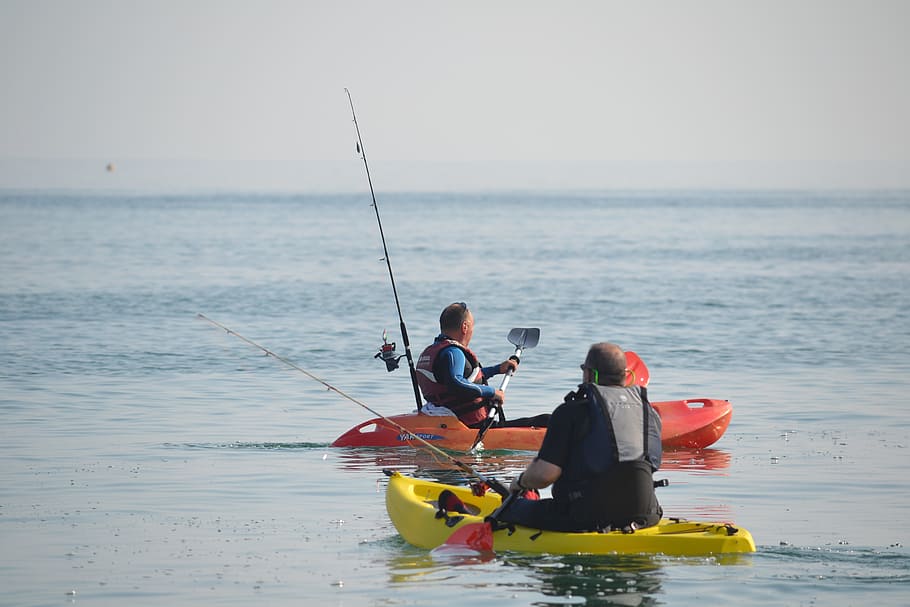 Illinois is home to many great fishing spots where you can kayak and catch a variety of fish species. The Fox Chain O'Lakes is a popular spot for kayak fishing due to its abundance of largemouth bass, smallmouth bass, northern pike and walleye. Similarly, Lake Springfield is known for its crappie and catfish populations.
For those looking to enjoy both fishing and beautiful scenery while kayaking, the Cache River offers easy floating trips with plenty of opportunities to catch bass, sunfish, and other species. The Kankakee River also boasts excellent smallmouth bass fishing with clear waters providing optimal visibility.
Kayak Camping Sites Along Rivers and Lakes
Kayak camping along rivers or lakes allows you to experience the beauty of nature up close without sacrificing comfort. The Des Plaines River offers several campsites specifically designed for paddlers where you can relax around a campfire after a day on the water.
The Vermilion River has several primitive campsites located near waterfalls that offer stunning views while spending the night outdoors. Similarly, camping along the Rock River provides access to popular sandbars allowing for swimming and relaxation.
Kayak Rentals and Outfitters
Not everyone owns their own kayak or equipment needed for kayaking trips; however, there are several rental options throughout Illinois which provide convenient rentals at reasonable prices. Kayak Chicago offers tours as well as rentals for both single-riders and tandem kayaks on Lake Michigan, while Kayak Morris offers rentals and shuttles for those interested in the beauty of the Illinois River.
In addition to equipment rentals, there are outfitters available throughout Illinois that can provide guided tours, lessons or equipment necessary for a variety of kayaking experiences. For example, Chicago Whitewater Association (CWA) offers a number of classes ranging from basic skills to advanced techniques.
REI also offers courses such as sea kayaking and wilderness survival skills. Overall, Illinois provides opportunities for kayakers of all interests to explore its breathtaking rivers and lakes through fishing spots, camping sites and rental options tailored specifically for your needs.
Hidden Jems
The Skokie Lagoons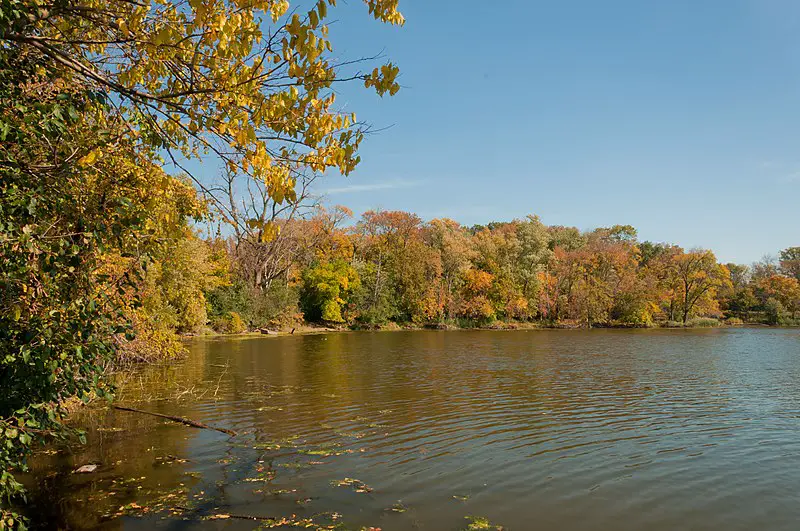 The Skokie Lagoons, located in Cook County, is an often-overlooked kayaking destination due to its proximity to Chicago. The lagoons are a part of the Forest Preserve District of Cook County and offer six interconnected pools for kayaking.
They are home to a variety of wildlife, including herons, turtles, beavers, and even coyotes. While paddling through the lagoons, visitors can enjoy the peaceful surroundings and beautiful scenery.
The Mazon River
The Mazon River is a small river that flows through Grundy, Will, and Kankakee counties in Illinois. The river is rarely known among kayakers but offers a unique and scenic paddling experience.
The river runs through sandstone bluffs covered with oak trees and provides paddlers with glimpses of wildlife such as deer and bald eagles. Paddlers can take advantage of several access points along the river to paddle different sections.
Devil's Island on Lake Carlyle
Devil's Island is an uninhabited island on Lake Carlyle that can only be reached by kayak or boat. It offers kayakers a chance to see unique geological formations created by glacial activity. Paddlers can also explore small coves around the island or stop for lunch on one of its sandy shores.
Conclusion
Illinois offers numerous rivers and lakes that provide great opportunities for kayaking enthusiasts to explore nature's beauty while getting some exercise. From well-known waters such as Lake Michigan to lesser-known waterways like Devil's Island on Lake Carlyle or the Skokie Lagoons in Cook County; there is something for everyone in this great state. Whether you're an experienced kayaker or just starting, Illinois has many outfitters and rental services to help you plan your adventure.
So, grab your gear and find the perfect river or lake for your next kayaking trip in Illinois. You won't be disappointed!