THIS POST MAY CONTAIN AFFILIATE LINKS, MEANING I GET A COMMISSION IF YOU DECIDE TO MAKE A PURCHASE THROUGH MY LINKS, AT NO COST TO YOU. PLEASE READ MY DISCLOSURE FOR MORE INFO.
Wisconsin is a great state for kayaking!  There are plenty of options for paddling.  15,000 options, actually, if you are looking to kayak a beautiful Wisconsin lake.  With this list of 14 best Wisconsin lakes for kayaking, you're bound to find somewhere amazing to kayak.  
If you have some experience with kayaks and are up for some adventure, then check out the guided kayak tours of Lake Superior and Lake Michigan.  If the big lakes aren't your thing and you'd rather paddle around a smaller, more calm lake, then there are plenty of options for that as well.  
Whatever kind of paddling adventure you're looking for, Wisconsin probably has it!
What are the best lakes to kayak in Wisconsin?
Here are my top picks for the best lakes to kayak in Wisconsin.
Lake Superior
Lake Michigan
Lost Canoe Lake
Little Falls Lake
Kangaroo Lake
Upper and Lower Nemahbin Lake
Dunn Lake
Clark Lake
Marl Lake
Mirror Lake
Lake Geneva
Bittersweet Lake
Devil's Lake
Lake Superior
One of the most popular areas of Lake Superior to kayak is the Apostle Islands.  There are 21 Apostle Islands in Lake Superior, just off the northern coast of the Wisconsin shoreline.  The Apostle Islands are beautiful, but dangerous, to visit for a beginning kayaker.  Lake Superior is unpredictable.  If you're a new kayaker, then please use one of the many outfitters that have guided tours of the Apostle Islands.  There are many.
You'll need a sea kayak to navigate Lake Superior.  The outfitters that offer guided tours only use sea kayaks as it's easier and safer to use on the (potentially) rough water.
If you'd prefer to stay close to the mainland, then check out the sea caves close to Meyers Beach.  The sea caves are around 2 miles from the beach, so plan on about a 5-mile round trip.  
Lake Superior Guided Kayak Tour Outfitters
Trek & Trail offers guided tours of the sea caves by Meyers Beach.  There are a couple to choose from based on how long you want to be on the water.  The shorter tour lasts about 3 hours while the longer tour lasts about 6 hours.  
Adventure Vacations has several different guided kayaking tours to choose from.  The Madeline Island Kayak Tour lasts for about 3 hours.  If you're lucky and the weather allows for it, the guides will take you to a cliff jumping site!
They also offer a boat/kayak combo tour.  You'll start on a powerboat to travel to the islands and then from there, you'll use tandem inflatable sea kayaks to explore the stunning sea caves around Devils Island.  
Whitecap Kayak is another great option for guided kayaking tours on Lake Superior.  They offer half-day, full-day, and customizable multi-day guided tours.  The customizable guided tours allow tons of time to explore all the different islands in the area, the beautiful sea caves, waterfalls, and much more!
If you've ever wanted to be on Lake Superior at night in a kayak, then you have to go on a guided tour by Rustic Makwa Den Guided Tours.  They offer a nighttime guided tour of the Red Cliff Sea Caves and a sunken shipwreck.
There are also several other daytime guided tours of the Red Cliff Sea Caves to choose from.  These sea caves aren't as busy as the Meyers Beach Sea Caves, and therefore, you won't see as many people on these tours.
Lake Michigan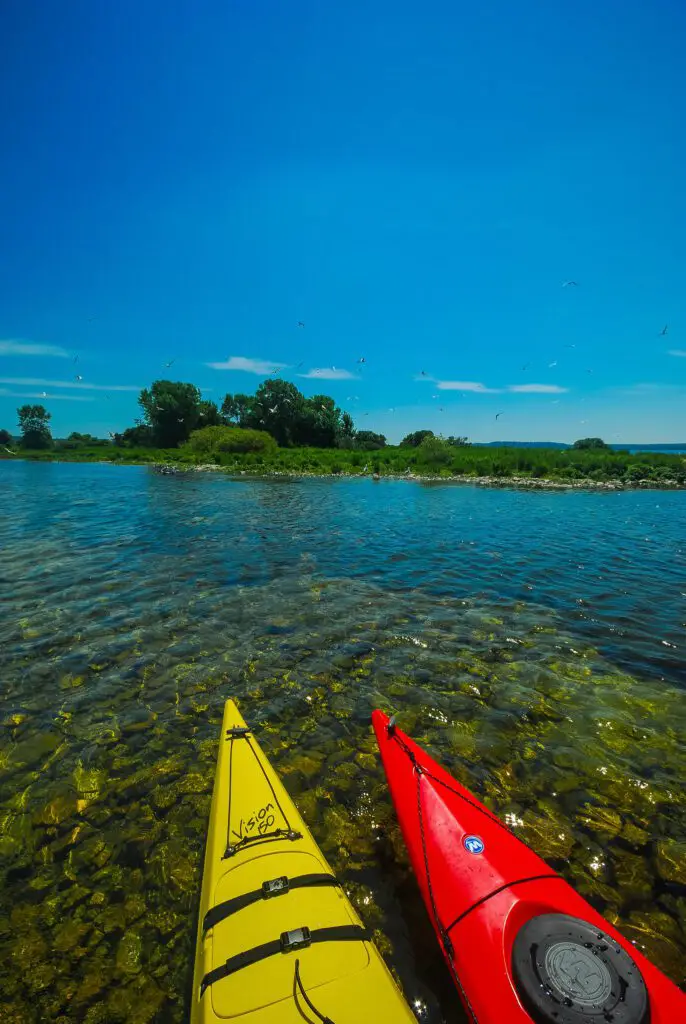 Just like Lake Superior, it's best to use a sea kayak when paddling Lake Michigan.  You just never know when the water is going to turn choppy and difficult to navigate.
Lake Michigan has many beautiful natural landscapes that can be seen from the water.  Door County is best known for its incredibly scenic shoreline and the many different parks that can be found in the County.
Lake Michigan Guided Kayak Tour Outfitters
One of the State Parks in Door County that offers guided kayak tours is Whitefish Dunes State Park.  Door County Adventure Center launches their kayak tours right from the park and takes you on Lake Michigan to check out the caves, a shipwreck, and the dunes.
They offer several full-day tours that include kayaking on Lake Michigan plus other adventures like ziplining and riding a Segway.
Cave Point Paddle and Pedal is another great outfitter that offers guided kayaking tours on Lake Michigan.  They offer several different kayaking tours of Door County and Lake Michigan that take you to beautiful caves and coves, shipwrecks, islands, lighthouses, dunes, and much more.  
Peninsula Kayak Company is another outfitter that offers a few different guided kayak tours to choose from.  They even offer a sunset tour where you and your group can enjoy a great Lake Michigan sunset from the water and explore the shoreline of Peninsula State Park.
Lakeshore Adventures offers a really unique guided tour of shipwrecks in Lake Michigan.  You'll be able to see the shipwrecks from a clear bottom kayak!  There are about a dozen shipwrecks that you could see on this tour.  They also take you around an island with a lighthouse.  This is just one of several guided kayak tours they offer.
Lost Canoe Lake
This 279-acre lake in Vilas County is a great lake to paddle!  Within the borders of the Northern Highland American Legion State Forest, Lost Canoe Lake is full of wilderness and wildlife.  Kayakers can put in from a public access landing on the northern side of the lake off of County Highway K.  This lake is very calm and peaceful.  It's perfect for the beginner kayaker!
Little Falls Lake
Little Falls Lake, located in St. Croix County is 170 acres.  It's located in Willow River State Park, in Northwestern Wisconsin.  The scenery around the lake is incredible.  The lake is great for a very relaxed paddle.  Canoeing and kayaking are very popular here.  Kayak rentals are available in season, in the park.  The lake can get low later in the season, so it's best to get out during the late spring and summer months.
Kangaroo Lake
Kangaroo Lake on the Eastern side of Wisconsin in Door County is perfect for paddling!  With over 1,000 acres, the lake is pretty large.  On the Northern side of the lake, there is a no motorized boating area, while the Southern side of the lake has a Slow No Wake Zone.
You'll have plenty of opportunities to see some beautiful wildflowers and get a good chance to see some wildlife.
Lakeshore Adventures can help set up kayak rentals if you need them.
Upper and Lower Nemahbin Lake
Upper Nemahbin Lake has 277 acres to explore.  It's great for kayaking and other water sports!  You can check out the beautiful views and see some nice lake houses.  There's a small channel that connects it to Lower Nemahbin.
Lower Nemahbin Lake is 271 acres and has beautiful shorelines and a few sandbars to explore.  There's even a large island in the lake with a few homes.  Lower Nemahbin is less populated and less busy than Upper Nemahbin, but exploring both lakes make for a great day on the water.
Nomad Boardsports is located on Upper Nemahbin, very close to Lower Nemahbin, and has all your rental needs from kayaks to pontoons.  They even have a little store with snacks and other sundries, as well as lockers to keep things safe while you are out on the water.
Dunn Lake
Not to be confused with Dorothy Dunn Lake, Dunn Lake, at 181 acres, is on the smaller side of lakes.  However, it's a great lake to kayak.  Located in Washburn County, kayakers can access Dunn Lake on the Southern end from public boating access off of Dunn Lake Road.  
Kayakers can expect a peaceful and quiet lake with a beautiful shoreline full of trees.
Clark Lake
Clark Lake, located in Door County, is the second-largest lake in Wisconsin.  The water in this 865-acre lake is incredibly clear and great for paddling.
Bay Shore Outfitters is available to help get you on the water so you can explore this gem.  They have a Wetland Kayak Tour that starts on the calm and peaceful Logan Creek and ends with you paddling around Clark Lake.  This tour is perfect for beginners and even allows for exploring the area out of the kayak.  
Clark Lake is in Whitefish Dunes State Park.  So, if you've been kayaking for a while and want to stretch your legs, there's a short hiking trail right off the lake.  The area is beautiful and great for birdwatching and checking out the dunes in the area.
Marl Lake
Marl Lake is a part of a Chain of Lakes in Southern Wisconsin.  It's one of the best lakes to paddle on the chain as the lake is no wake.  The other lakes on the chain can get pretty busy with powerboats.  However, Marl Lake can get busy with people, so if you can, check out this lake during the off-season or on weekdays.  
The water in Marl Lake is a turquoise color and is reminiscent of the Caribbean.  It's a must-see.  It's pretty clear and you'll be able to see some aquatic plants and fish below the surface.
Jimmy Fords Boards by Loon Paddle Shop rents out Kayaks with free local delivery and pickup.  They'll be able to help answer any questions you have about kayaking Marl Lake and the area's other lakes and rivers.
Mirror Lake
Mirror Lake is known as being so calm that the water acts as a mirror. Found in Mirror Lake State Park, the lake is surrounded by tall cliffs with little development on the shoreline.  At 139 acres, it's not the largest lake in the area, but it's still a great lake to paddle.  The lake is slow-no-wake to protect the sandstone cliffs.  It's perfect for the beginner kayaker.
Mirror Lake State Park offers kayak, canoe, stand-up paddleboards, and pontoons for rent. The park also has hiking and biking trails to explore and has campgrounds.  It's also close to Wisconsin Dells, so it's just a great area to check out if you're looking for vacation ideas!
Lake Geneva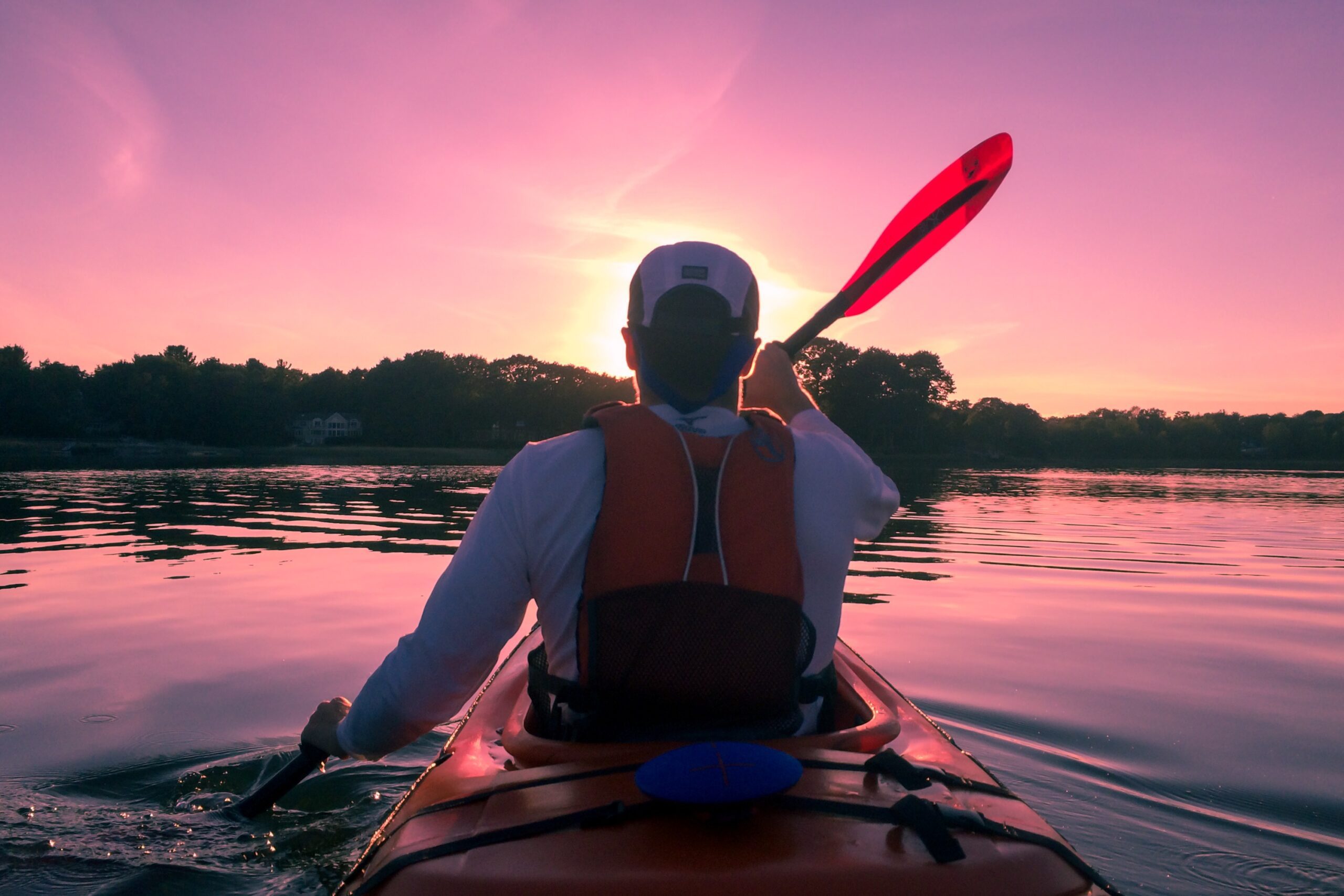 Lake Geneva is a large lake, coming in at over 5,400 acres.  It's a very popular lake with tourists, and there are always paddlers exploring the shorelines and checking out the beautiful, expensive houses on the lake.
Clear Water Outdoor is your source for kayak rentals in Lake Geneva.  Right in the heart of downtown Lake Geneva, it's a convenient spot to put in the water and paddle around the lake.  They also have all the latest styles of outdoor clothing and the newest accessories to make your Lake Geneva trip amazing.
If you want to kayak Lake Geneva but would like to explore a less popular area of the lake then head over to Big Foot Beach State Park.  The shoreline there is less populated.  While the park doesn't have kayak rentals, a local vendor is right outside the park near the south entrance.
Bittersweet Lakes
Bittersweet Lakes, in Vilas County, are a group of 4 lakes connected by portage trails.  These lakes are in a State Natural Area and are protected.  Motors are not allowed on the lakes.  Because of this, the lakes are completely wild.  The lakes can all be paddled in one day, or you can take your time and paddle as slowly as you wish.  There are rustic campgrounds nearby if you wish to do this.  
Devil's Lake
Devil's Lake State Park is one of the most popular State Parks in Wisconsin.  There are tons of activities to do here and one of those activities happens to be kayaking Devil's Lake!  The lake is pretty clear and gas motors are not allowed on the lake.  It's great for paddling with amazing views, wildlife, and calm water.
The park has a concession stand with kayaks, canoes, and stand-up paddleboards for rent.  The Nature Center offers kayaking tours of the lake during the summer months.  The park is located about a half-hour drive from the Delles and is a great area for a camping trip.
Conclusion
With this list of 14 best Wisconsin lakes for kayaking, there's something for everyone.  From beautiful, wooded shorelines and bluffs to caves, coves, islands, and shipwrecks, Wisconsin offers a plethora of great kayaking locations.  
No matter how experienced a kayaker you are, there are plenty of options for everyone from beginner to expert kayakers.  From tranquil and calm waters, to rough, rocky waves Wisconsin has it all!