THIS POST MAY CONTAIN AFFILIATE LINKS, MEANING I GET A COMMISSION IF YOU DECIDE TO MAKE A PURCHASE THROUGH MY LINKS, AT NO COST TO YOU. PLEASE READ MY DISCLOSURE FOR MORE INFO.
Wisconsin is full of rivers and lakes for everyone to enjoy.  With 84,000 miles of river to explore, there's endless opportunities for you to get out on a kayak and enjoy the fresh air.  But which rivers are best for your level of expertise?  With this list of the 14 best rivers to kayak in Wisconsin, hopefully you'll find one or many that sounds perfect to get out on and paddle.
Kinnickinnic River
In River Falls, the Lower Kinnickinnic flows with very little development on the shoreline.  This makes it a great spot for kayaking and spending some time in nature. River Guide Kayaks offers a guided tour of the Lower Kinnickinnic for moderate kayakers.  It's suggested for moderate kayakers because this part of the river flows a little faster and has some turns along the way that are a little hard to navigate.
If you're in River Falls and are newer to kayaking, then stick with kayaking the Upper Kinnickinnic.  It's more suitable for beginners, however there are still trees, rocks, and some level I rapids to contend with.  You'll be fine, it'll just get exciting every once in a while.  This river tends to be fairly shallow, so you may scrape the bottom of the kayak along the way.  Kinni Kayak can help you out if you need a kayak rental and shuttle and they'll be able to answer any questions you have about kayaking the Kinnickinnic.
Wolf River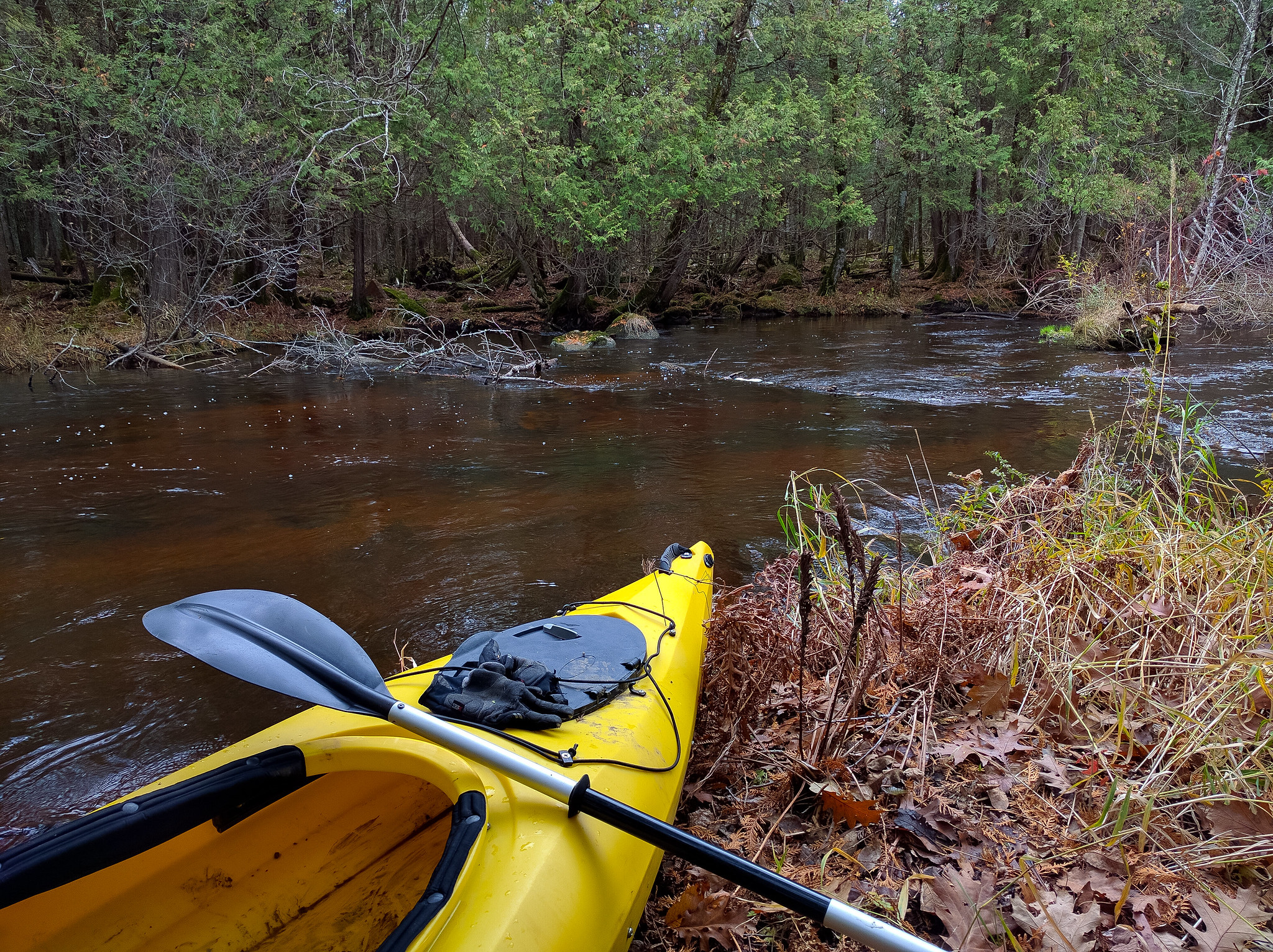 The Lower Wolf River is perfect for beginner kayakers to learn how to paddle.  This part of the river is quiet and slow flowing, with lots of opportunities to see wildflowers and wildlife.  Dragonfly Paddlers will help you out with kayak rentals and shuttles.  Their main kayak trip is a 2–3-hour easy, relaxed experience that takes you on a 5.5-mile excursion.
The Upper Wolf River has more rapids and is great for moderate to experienced paddlers.  If you need an outfitter to help shuttle you and your gear, then check out Bear Paw.  They offer shuttles along the Wolf River with many drop off points depending on how experienced you are and how long you wish to paddle.
Willow River
Willow River is a great river to kayak for all levels of kayakers.  If you're new to kayaking, then stick with the Upper and Mid-Willow River.  New to intermediate kayakers will have a great time kayaking the Lower Willow River.  There's even a leg of the Willow River that is perfect for more advanced kayaker with obstructions to maneuver around and a number of portages depending on how high the water level is at the time.  Willow Kayaks is your go-to tour guide here with expert kayakers guided you all the way.  Willow Kayaks provides the kayaks, life vests, paddles, and shuttles for you to enjoy your day on the river.
Check out my list of the best 7 Minnesota Lakes for kayaking for more kayaking trip ideas!
Baraboo River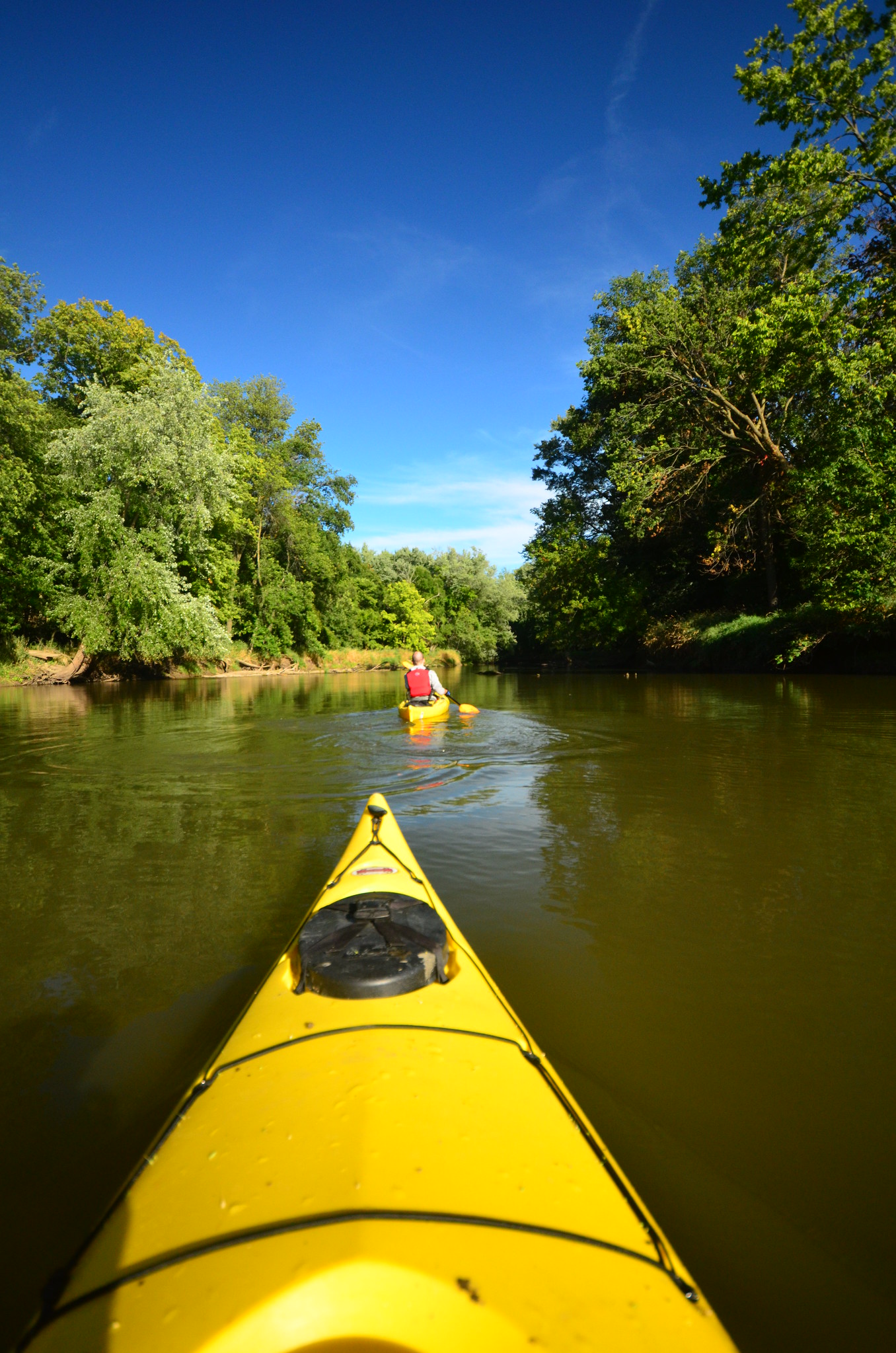 Kayaking the Baraboo River is a unique experience because this river has no dams.  This makes it one of the best rivers to kayak in Wisconsin!  Baraboo River offers a kayaking experience for whatever level of kayaking you happen to be at.  It's great for beginners and has some challenging spots for the experienced kayaker.  The Baraboo flows through a wide variety of landscapes from rural to urban, so you'll get a chance to see wildlife during your paddling trip.  Baraboo River Rentals will help you with whatever you need to get out and enjoy the river.  They offer different guided tours depending on what length of trip you want and also your level of expertise.
Wisconsin River
The Wisconsin River is a great river for kayaking.  It flows from northern Wisconsin all the way to the southern border of the state before it flows into the Mississippi River.  The last 92 miles of the river are protected, and as a result, have less development like houses.  It's also a migratory route for many birds, so chances are, on your paddling trip you'll see Bald Eagles, Blue Herons and other beautiful water birds.
There are many outfitters that will help you kayak the Wisconsin River.  WI River Outings can help you navigate a kayak/canoe camping trip on the Wisconsin River.  They can help you with anywhere from a one-day trip all the way up to a 5–7-day trip where you paddle the entire last protected 92 miles of the Wisconsin River.
WildWood Outdoor Adventures is another great option for kayak rentals and shuttles along the Wisconsin River.  They have kayak trips for beginner, moderate, and experienced paddlers.  Their trips vary in time from just a couple of hours all the way up to 6.5 hours.
Hawks Nest Outfitters is another great option if you're looking to kayak the Wisconsin River.  They offer a couple of day trips, and they can also help you out if you're looking to make your kayaking trip a multi-day experience.  Hawks Nest Outfitters will help you figure out where to set up camp during your trip, and the shuttle is included!
St. Croix River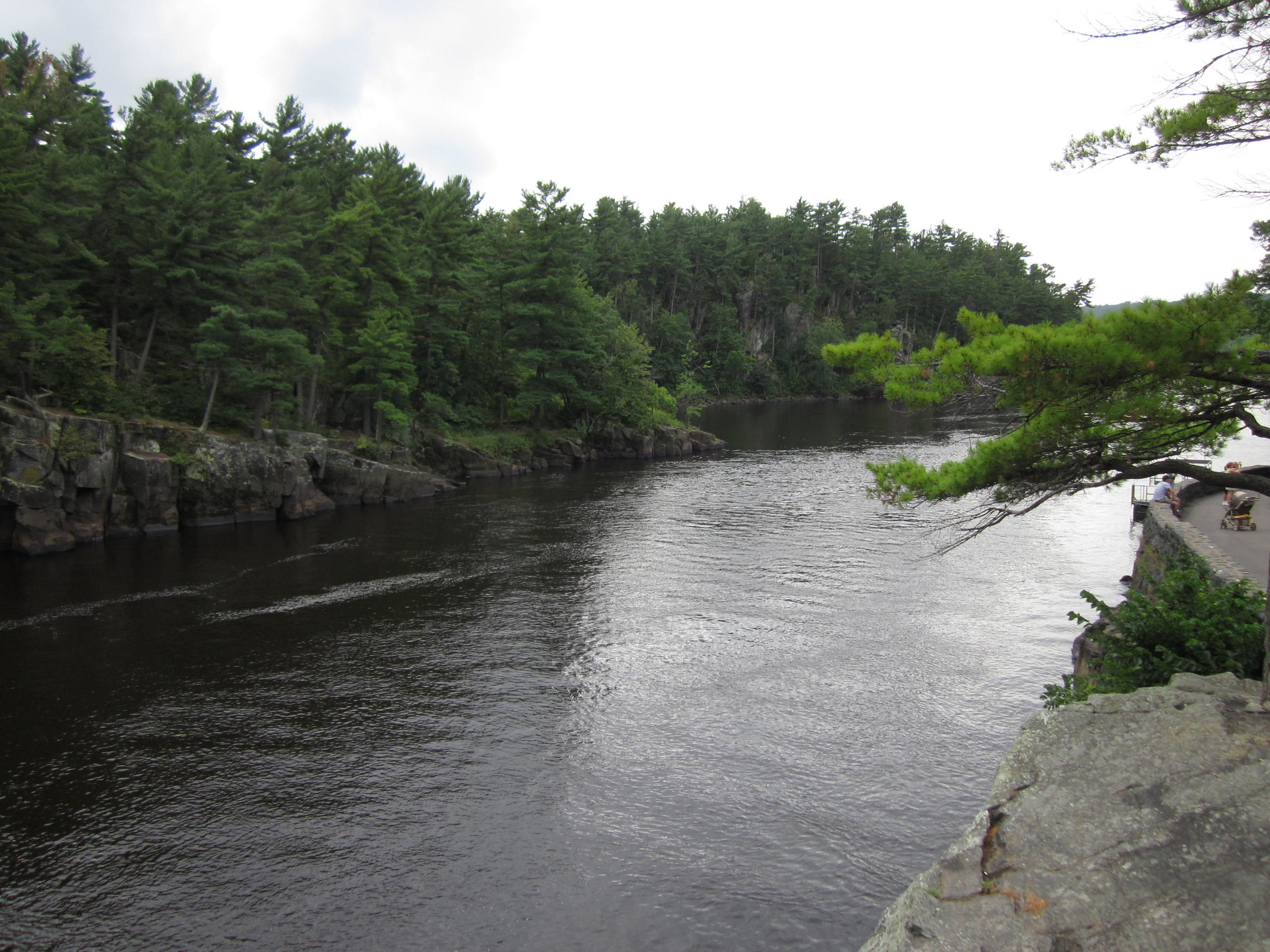 The St. Croix is one of the most scenic rivers in the Midwest.  If you paddle the St. Croix you'll be paddling under steep rock cliffs and sandstone bluffs.  Wildlife is plenty, with many animals and birds calling the St. Croix River their home.  Riverwood Canoe and Kayak is a great outfitter that will help with kayak rentals and shuttles.  You'll kayak from the beautiful Interstate State Park 7 miles back to Osceola.  It's a relaxing 2–3-hour trip with gorgeous views along the way.  There's no time limit on this trip.  You're welcome to explore the river as much as you want or even stop for lunch on a sandbar.  They only ask that you're out of the water when the sun starts to set.
Fox River
The segment of the Fox River that flows through Appleton, WI is a favorite among paddlers.  Fox River Kayaking has guided excursions that will take you through multiple locks before making your way to your final destination.  If you aren't really interested in traversing the locks, they also offer kayaking trips that will take you around islands and a lighthouse with beautiful views of high cliffs and historic homes.  They also offer a sunset tour that is perfect for a relaxing night on the water with your partner or group of friends.
Boise Brule River
On a segment of the border between Wisconsin and Michigan is the Boise Brule River, aka the Brule River.  The Brule River is a popular river for canoeing and kayaking with beginners to advanced paddlers having a great time on the water.  It's one of the quietest rivers in the state with little development on its shoreline.  Paddlers have a great chance to see an abundance of wildlife from deer to beavers to great blue herons.
Brule River Canoe Rental has kayaking trips that can last up to 3 days and are perfect for novice paddlers, all the way up to expert paddlers.  There are class I and II rapids, whitewater, and other challenges to navigate depending on which tour you choose to do.  There are also campgrounds along the way if you're looking to camp during your kayaking trip.
Namekagon River
Flowing for approximately 100 miles before it joins the St. Croix is the Namekagon River.  Both rivers are a part of the St. Croix National Scenic Riverway, federally protected and managed by the National Park Service.
The Namekagon River is great for kayaking!  Depending on where you go in, it's a narrow stream that is perfect for trout fishing with evergreen trees on either side of you, or it's a relatively slow-moving river that flows through a lot of swamp and marsh lands.  Either way, it's best navigated on kayak or canoe.
If you're looking at paddling the Namekagon River for just the day, or are looking at a multi-day kayaking trip, then check out Jack's Canoe Rental.  They'll help you out with everything you're going to need from rentals to shuttles and figuring out where to camp.  They also have a great gift shop that sells apparel, gifts, souvenirs, and even 14 flavors of ice cream!
Ahnapee River
If you're traveling through Door County and have an afternoon with nothing to do, then think about kayaking the Ahnapee River!  At 14.7 miles long, it's a relatively short river that flows into Lake Michigan in the town of Algoma.  A lot of people put in after the dam in Forestville and enjoy a quiet and peaceful paddle down to Lake Michigan.  This is a great river for beginners as long as you take it out before you get too far into Lake Michigan.
If you're in Algoma and looking for kayak rentals, then check out Explore Algoma.  They have kayaks you can rent for 1 hour up to all day.  There are several different routes you can navigate, and you'll enjoy seeing all the wildlife while you're out paddling around!
Kickapoo River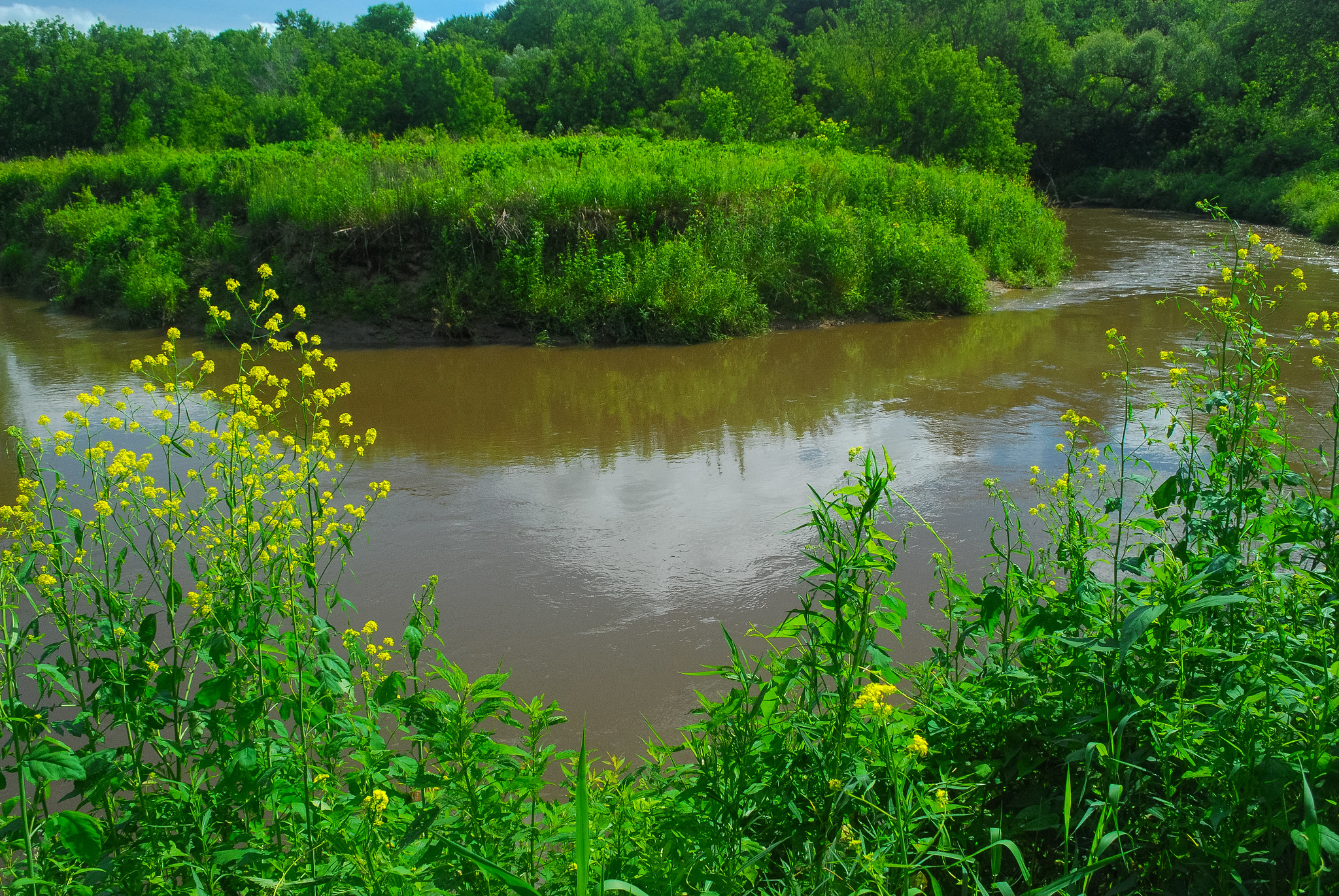 In the southwest corner of the state of Wisconsin you will find the Kickapoo River.  Named after the Native Americans of the area, this 126-mile river flows into the Wisconsin River.  The Kickapoo River is extremely popular with paddlers.  It's a very crooked, winding river with beautiful sandstone outcroppings.  The river is very slow moving and safe for beginner kayakers with plenty of opportunities to stop for a snack and explore the shoreline.  
Titanic Canoe Rental will help you out with anything you need to kayak the Kickapoo River.  They have great quality kayaks for rent, changing rooms, and shuttles to your destination and back to the shelter.  You can schedule a kayak trip just for the day or plan a multi-day trip with them.  If you have your own kayak and equipment, but need a shuttle, they'll help with that.  They even do car spotting for you where they'll help you with getting your car to your preferred landing spot and take you back to their shelter so you can paddle away from there and take as long as you want on the river.  
Flambeau River
The Flambeau River in northwestern Wisconsin has two forks before they merge into one.  The North Fork has class I and II rapids, and all 77 miles of the North Fork are within the Flambeau River State Forest.  With only class I and II rapids this segment of the river is more relaxing.  It's great for all paddlers.  The Southern Fork is more of a challenging whitewater river with rapids from class I all the way to class V.  It's only 15 miles long, but definitely best left to advanced paddlers.
Both Forks are set in the beautiful Flambeau River State Forest and there is very little development on either Fork.  Wildlife is abundant with deer, raccoon, and even black bear.  The Flambeau River is one of the best rivers to kayak and canoe in the upper Midwest.  
Camping is available on or near the river.  The Flambeau River State Forest has a couple of campgrounds available for campers in the park, plus 14 shoreline campsites.  The shoreline campsites are first come, first serve with 1 night only camping.  
Nine-Mile Tavern is available to help with kayak and canoe rentals and they will have a shuttle ready and waiting for you as you get on and off the river.  They offer same day, and multi-day trips.  They will know exactly where to put in depending on your level of expertise, and let you know where they will pick you up.  Conveniently located right outside the Flambeau River State Forest, it's an easy stop before heading to your campsite.  Drinks are available at the Nine-Mile Tavern, but they don't serve food. 
Pine River
The Pine River is a very beautiful, scenic river and great for paddling.  Located in Richland, WI between the Kickapoo and Baraboo Rivers, the Pine River is sometimes forgotten about by paddlers.  But it shouldn't be!  Located in the Ocooch Mountains, the views from the river include bluffs, valleys, a natural bridge and some lowlands.  Like any river, there are segments that are better for kayaking than others.
Pine River Paddle and Tube is available to help you answer any questions you have about kayak rentals and trips paddling the Pine River.  They have shuttles available to help you and they will know what sections of the river are best for your level of expertise.
Black River
A tributary to the Mississippi River, the 200-mile long Black River is a great river to paddle.  The lower 100-mile section is more popular with kayakers, but the upper half shouldn't be ignored either.  The upper half has great rapids for the slightly more experienced paddler. Water level may be more of a problem on the upper half, so this segment of the river is probably better to kayak in the spring after the snow melts.
From Black River Falls, the lower half is great for the beginner kayaker.  There are beautiful views of cliffs, and the river is just more scenic here.  Lost Falls Campground has everything you need to enjoy a great kayaking trip down the Black River.  They can set you up with a kayak rental and shuttle you back and forth.  They offer a few different trips for kayaking with different lengths, depending on how long you wish to be on the water.  Campsites are also available so you can enjoy your kayaking trip for more than just a day.
Conclusion
Kayaking is a great way to explore the rivers of Wisconsin.  From narrow rivers to wide, gentle meandering rivers to whitewater, you can find what you're looking for in Wisconsin.  Plus, the views are very scenic and beautiful throughout the entire state.  Abundant wildlife, colorful wildflowers and plenty of fish can be found in and around the rivers of Wisconsin.  Hopefully with this list of the 14 best rivers to kayak in Wisconsin, you've found at least one to explore.