THIS POST MAY CONTAIN AFFILIATE LINKS, MEANING I GET A COMMISSION IF YOU DECIDE TO MAKE A PURCHASE THROUGH MY LINKS, AT NO COST TO YOU. PLEASE READ MY DISCLOSURE FOR MORE INFO.
Hocking Hills in Southern Ohio is incredibly beautiful.  The scenery is not something you'd expect to find in Ohio, and it belongs in a rainforest if I'm being honest. Hiking Hocking Hills was an adventure I'll want to do again because there was so much to see!  Hocking Hills has waterfalls, a cave, recess caves, wildflowers, birds, and other wildlife.  It's a place I highly suggest everyone needs to check out.  
When is the best time to visit Hocking Hills?
We went in May and it was the week before Memorial Day weekend.  I had read online that Hocking Hills was an extremely popular area, and I should prepare for crowds.  But we lucked out!  There was a lot of rain in the forecast, which ended up being great for us because the rain kept a lot of local people away.  
If I had to choose the best time to visit Hocking Hills, it would be before school lets out for summer, and during the fall months when school is back in session.  Also, I would get there as soon as possible in the morning.  The park is open a half-hour after sunrise and is open until sunset.  It's best to either get there early or after the majority of the crowds have left for the day.
What should I wear to hike Hocking Hills?
It depends on what the weather is like that day.  In the spring and summer months, the best clothes to wear would be quick-drying hiking shorts and t-shirts.  A baseball cap would be great to keep the sun out of your face, and a good pair of hiking shoes or boots is highly recommended.  I have a pair of Keen's and I love them because they're water-resistant, comfortable, and have excellent grip.  If there is rain in the forecast, a good raincoat that will keep you dry is essential.  
In the winter, dress in layers!  Bring traction cleats with you if there's a chance of ice on the trails.  
What kind of gear do I need to take hiking Hocking Hills?
We had a backpack with a hydration pack.  We have something like this and it works great.  It's also a good idea to bring a first aid kit in case of any small injuries. Hiking poles really helped me out on this hiking trip because there are large rocks that you'll be climbing over, along with fallen trees.  The hiking poles really help with that, especially if you're shorter, like me.  The hiking poles also helped with crossing streams and muddy spots on the trail.  I have the ones at this link and I highly suggest getting them, or a pair like them.
I would also bring sunscreen and bug spray.  The bugs weren't too bad when I was there, but you don't want to be out hiking without bug spray.  Plus, the sun can get pretty hot on the trail.  It's better to be protected from the sun than nursing a sunburn for a week.
Some smaller items that were helpful to have hiking Hocking Hills, or really any time you go out hiking would be snacks like trail mix and granola bars, sandwiches, and apples or other fruit that are easy to eat on the trail.  I would bring an extra pair of socks in case the pair you're wearing gets wet (nothing worse than wet feet when hiking).  Having a multi-use tool, or knife with you is always a good idea along with toilet paper and a small shovel in case you have to go when on the trail.
Where should I stay when visiting Hocking Hills?
There are many options to stay when visiting Hocking Hills.  We stayed at the Holiday Inn Express in Logan.  It was about a 15-minute drive to the hiking areas, and we were really happy there.  They have a pool and a great breakfast.  The people at the desk were friendly and helpful.  And there's a delicious Mexican restaurant right across the road with another couple of popular restaurants within walking distance.  There are other hotels and motels nearby also, along with cabins and Airbnb's.  
Now that that's out of the way let's get to the best part-hiking Hocking Hills!
Upper and Lower Falls of Old Man's Cave
If your plan is to start early, before the crowds show up, then I would head to the Visitor's Center parking lot.  From here you'll be able to see the majority of the attractions at Hocking Hills.  When you begin the one-way trail right off the parking lot, you'll see the Upper Falls.  The Upper Falls are beautiful and a great way to start the day.  If you follow the Old Man's Cave trail, you shortly come across the Lower Falls.  Even more beautiful and larger than the Upper Falls.  
This area is just absolutely stunning.  You'll see a deep recessed cave with a waterfall.  Everything about this attraction is so cool!  There's a really neat stone bridge covered with moss that you'll walk across to get closer to Old Man's Cave.  
After Old Man's Cave, you'll choose to continue on to either Whispering Cave or Cedar Falls.  There really is no "best way" to do this and it's up to the hiking group.  Both areas are beautiful, and I highly suggest checking out both areas.  
Cedar Falls
Cedar Falls is another beautiful waterfall you'll come across hiking Hocking Hills. I will say that instead of hiking to all these waterfalls, another option would be to drive to the small parking lot that's really close to Cedar Falls.  But the hike is fun and so scenic and just part of the experience.  So, if you're able to do the slightly strenuous hiking, please do.  
Whispering Cave
Whispering Cave is another attraction you can hike to from the Visitor's Center.  This is a HUGE recess cave that was used by Native Americans dating back to the end of the last ice age.  I didn't hear any whispers when I was there, just a really cool recess cave with a 100ft. waterfall.  People have made rock cairns here, which looks really cool.  
Ash Cave
This is the farthest attraction that you can hike to from the Visitor's Center.   But you also have the option of driving to a small parking lot that's pretty close to the cave.  This is the largest recessed cave in Ohio, and on top of that, there's yet another beautiful waterfall cascading over it as well.  The view here is honestly jaw-dropping.  I would consider this a must-see if you're hiking Hocking Hills.
Broken Rock Falls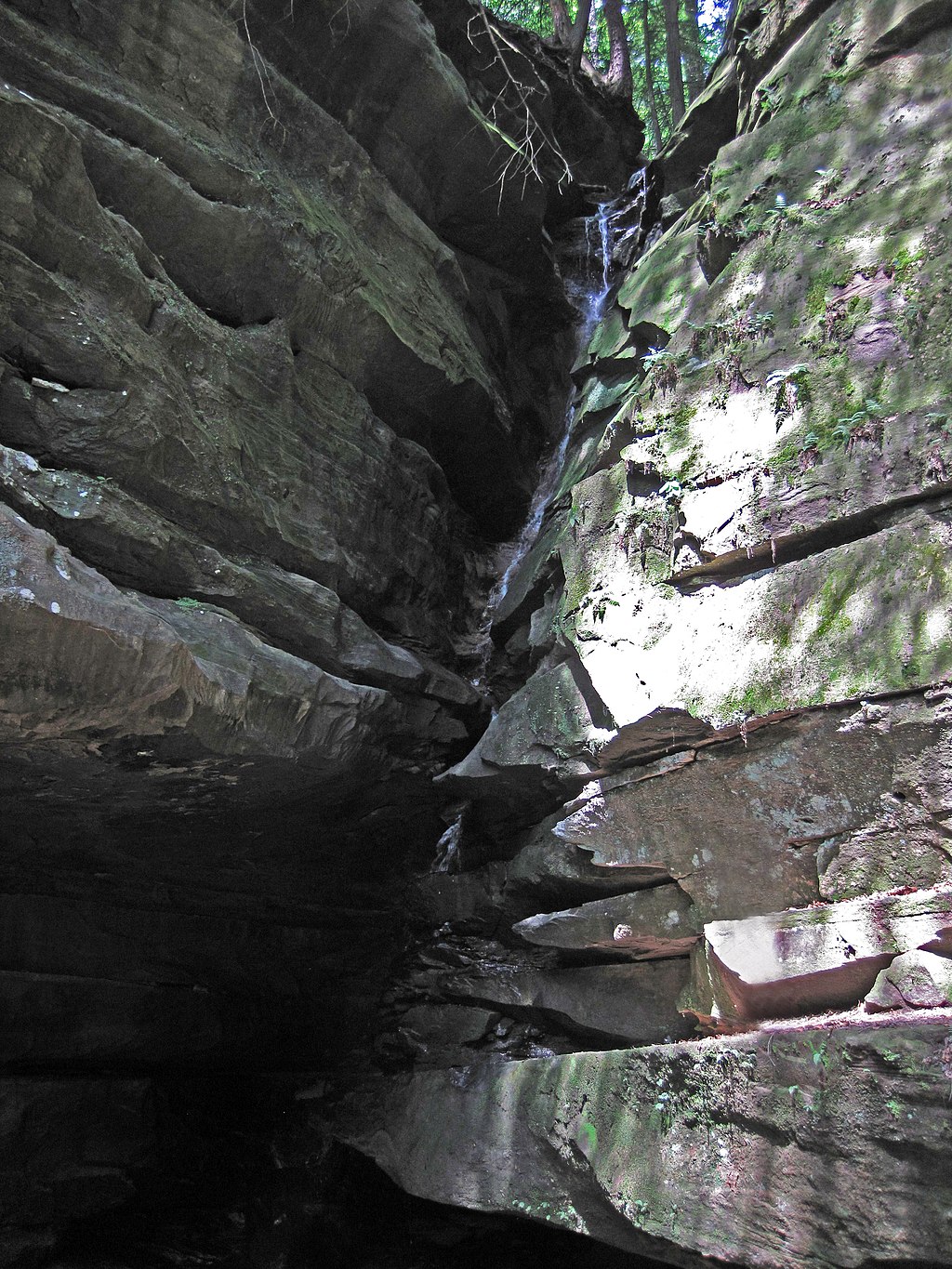 We almost missed the sign for Broken Rock Falls when we were on the trail for Old Man's Cave.  This trail will lead you up some steps and around a corner where there is a rock that is split in two and down the center is a rushing waterfall.  It's one of the easiest attractions to miss in this hiking area, but definitely worth seeing.  
If you have two days to hike Hocking Hills, I wouldn't rush anything.  I would spend the day hiking the trails around the Visitor's Center and also going into the Visitor's Center and seeing all the exhibits that go in-depth about the area.    They're pretty interesting and educational.
So out of the 7 main hiking trails or attractions at Hocking Hills State Park, the majority can be found on trails close to the Visitor's Center.  The other 3 are Conkle's Hollow, Rock House, and Cantwell Cliffs.  
Cantwell Cliffs
Cantwell Cliffs are pretty far from Old Man's Cave.  I think it's about a 17-mile drive from the Visitor's Center to the parking lot at Cantwell Cliffs.  But it's worth it.  I think the longer drive keeps people away from here, so there's a good chance you'll get the hiking trails all to yourself, especially if you go early or later in the day.  
The cliffs are stunning and there are narrow stone staircases you have to make your way down to get to the bottom of the valley.  The rock outcroppings are beautiful with ferns, moss, and other plants growing in between the layers of the rock.  Plus, if you happen to go there after heavy rain, there are small waterfalls everywhere!
Conkle's Hollow
Conkle's Hollow isn't a part of the Hocking Hills State Park, it's a State Nature Preserve, but it's still one of the areas that people visit when in the Hocking Hills area.  It's about 3.5 miles from the Visitor's Center and does have a trail that supports wheelchairs for a portion of the trail.
Conkle's Hollow is a deep gorge covered in wildflowers, moss, ferns, and trees.  There are beautiful waterfalls and cliffs with dangerous edges.  We were there after some heavy rain, so the waterfalls were flowing even more than usual.  
Rock House
Rock House is the only actual cave in Hocking Hills.  The cave has a series of "windows" with stunning views.  Close to the cave is a beautiful waterfall that flows after rain.  There are also pigeons that call the cave home, and they were making some pretty eerie noises while we were in the cave.  It just added to the ambiance, along with the rainy day!
The trails to Rock House are considered moderate because you'll be climbing over rocks and up hills.  Bring a flashlight with you so you can thoroughly explore the cave.  It's dark without a light!  Hiking poles will also help on this trail.
The view from Rock House towards the waterfall was my favorite view in all of Hocking Hills because the rocks are covered by moss and ferns, plus everything is just so green.  This is definitely a must-see at Hocking Hills!
Conclusion
I would put Hocking Hills State Park on your bucket list if you haven't yet visited the area.  There is so much to see, because even outside Hocking Hills State Parks, there are more State Parks and Nature Preserves to see.  The area is absolutely beautiful, and you're almost guaranteed to leave there with some great memories.  Hiking Hocking Hills was such a thrill and some of the best hiking trails I've ever been on.  Go check it out for yourselves!