THIS POST MAY CONTAIN AFFILIATE LINKS, MEANING I GET A COMMISSION IF YOU DECIDE TO MAKE A PURCHASE THROUGH MY LINKS, AT NO COST TO YOU. PLEASE READ MY DISCLOSURE FOR MORE INFO.
There are so many things to do on Hilton Head Island, South Carolina that you might not be able to do it all in one vacation!  Do you just want to chill on the beach with a drink in your hand?  You can do that.  What about getting some exercise in like hiking or biking?  Done.  Looking for more of a culinary vacation with new food and drinks to try?  Hilton Head Island has tons of restaurants and taprooms to check out.  Want to check out the local sea life and get up close with dolphins and whales?  Book a cruise, no problem!
Check out the list below for these plus more of the top 10 things to do on Hilton Head Island, South Carolina.
1. Biking
Hilton Head Island is known for its bike-ability.  If you need to rent a bike just for the day or for your whole vacation, there are lots of bike rental places that can help you out. Check out a few of them below!
Wheelz of Hilton Head lets you rent a bike anywhere from half a day to two weeks.  They have specialty bikes like e-bikes and bike attachments if you need to tow your kids around.
Hilton Head Outfitters is another option if you're in need of a bike rental.  Located in the Palmetto Dunes Resort, you get a discount on their rentals if you're staying on the resort.  From beach cruisers to tandem bikes, Hilton Head Outfitters has what you need to bike your way around the island.
LowSea Bike, Beach and Baby Rental is another great option for bike rentals.  Plus, you can rent all your baby gear that you'll need on vacation here to. Bike rentals start at just the day, or up to two weeks.
If you're a regular bicycle rider, there's more than 60 miles of biking trails to check out.  There are maps available on the city website.  There are also kiosks along the paths with maps to direct you.  Maps are also available at bike rental shops, hotels, and restaurants.  Getting around on Hilton Head Island is very easy!
Plus, you have the option of just biking on the beach! The beaches on Hilton Head have more of a hard compact sand, so biking right next to the water is very doable.  Hilton Head has 12 miles of beaches to bike, just make sure to wash off any salt and sand that's left on your bike to avoid corrosion.
2. Hiking
Pinckney Island National Wildlife Refuge
This 4,053-acre wildlife refuge close to Hilton Head Island includes a small handful of islands, with the largest being Pinckney Island.  Pinckney island is the only one available for public use.  While it is possible to bike the trails on Pinckney Island, most people prefer to hike them.  There are over 14 miles of trails to see with the longest being almost 8 miles round trip.
Audubon Newhall Preserve
Audubon Newhall Preserve is a beautiful area with an easy 2-mile hiking trail.  A large portion of it includes a loop around a pond where people of any fitness level can enjoy the trail.  Plaques along the 2-mile trail describe the local flora.  Keep an eye open for alligators!
Sea Pines Forest Preserve
This gem on Hilton Head Island goes on the list of must-see areas.  At over 400 acres this tract of land is one of the largest, if not the largest, area of undeveloped land in Hilton Head Island.  Sea Pines Forest Preserve is a haven for wildlife, and birding is a popular activity here.  Hiking is also very popular and there are about two miles of easy walking trails available in the preserve.  One thing to note about Sea Pines Forest Preserve-if you are not staying or living at Sea Pines there is a fee to bring your car onto the plantation.  Biking is not allowed.
Once you're in the Preserve there are a couple of points of interest.  The first one is the Indian Shell Ring.  This amazing archaeological site dates back around 4,000 years.  This enormous collection of shells is still a mystery.  Archaeologists are unsure of its purpose, but these shell rings can be found throughout the lower Eastern Seaboard with the shell ring on Hilton Head Island being one of the easiest to travel to.
The second point of interest in Sea Pines Forest Preserve is absolutely stunning in spring.  Warner W. Plahs Wildflower Field explodes with color and offers tons of picturesque settings for your Instagram photos.  Every year this field is planted with a large mix of beautiful wildflowers and is a must see.
3. Kayaking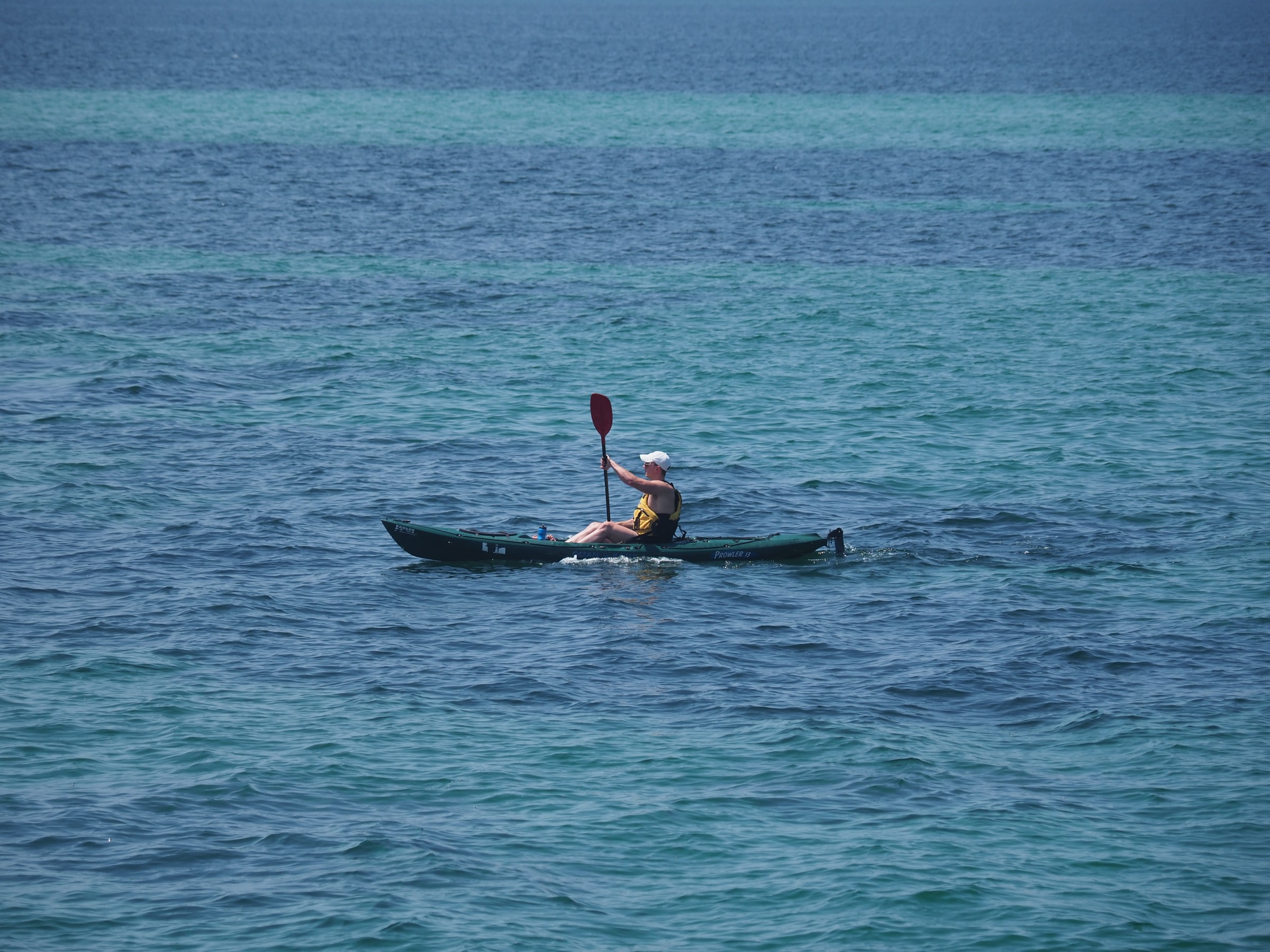 Hilton Head Island offers many different ways to explore the island on kayak.  Whether you're looking for a guided group tour or want to experience Hilton Head on your own, Hilton Head Island offers it!
Kayak Hilton Head
Kayak Hilton Head offers kayaking tours where it is very common to see Bottlenose Dolphins eating and playing in the water.  You will be kayaking in a water estuary right in the middle of the island, away from the rougher ocean water.  If you're a more experienced kayaker, you are able to rent a couple of kayaks and go exploring on your own, but beginners are required to kayak with a group tour until you get more experienced.  No one is allowed to go kayaking alone, you must have a buddy with you for safety reasons.  Reservations are required for these two hour guided tours.
Outside Hilton Head
Outside Hilton Head also offers two hour guided nature tours.  These tours will bring you through tidal creeks and salt marshes around Hilton Head Island.  Guided by expert kayakers, you'll see the best wildlife that Hilton Head Island has to offer all while getting the history and layout of the land by your guides.  These guided tours are done at a relaxing pace suitable for beginners and children.  Children under 12 must be accompanied by an adult on a two-person kayak.
Outside Hilton Head also offers a unique Full Moon Kayak Tour.  Taking off right before sunset you'll be able to see the sun set in the west and with the rising moon, a beautiful glow lights up the water.  This tour allows you to be able to see some of the nocturnal animals that are seldom seen during the daytime.  Plan ahead and book early because the spots fill up fast!
Palmetto Dunes Lagoon
This 11-mile lagoon channel is excellent if you're just learning how to kayak.  It's sheltered from the ocean and heavy boat traffic, so the water here is very calm.  Make your way around beautiful neighborhoods while checking out the local birds and wildlife.  This area is very scenic.  If you're staying at Palmetto Dunes Resort, Hilton Head Outfitters is right on the property and makes it very easy to rent a kayak and go check out the lagoon on your own or go with a tour group.
4. Shopping
Who doesn't love checking out the local stores and shops when vacationing in a new area?  Hilton Head Island has lots of amazing merchants with the best local boutiques and souvenir shops.
Shelter Cove Towne Centre
Shelter Cove Towne Centre is a very popular shopping centre filled with specialty shops and boutiques.  It also has a large department store called Belk where you can find anything you need from clothes to home furnishings.  It also has a wide array of restaurants to choose from after working up an appetite with all your shopping!  Don't forget to stop for ice cream or chocolate at Kilwins!
Harbour Town
This cute Instagram worthy destination includes a candy cane spiral Lighthouse that you can climb to the top and get jaw dropping views of the town of Hilton Head Island.  Harbour Town, within the Sea Pines Resort is a shopper's haven.  Cute boutiques and shops offering the latest fashion and the best souvenirs abound here.  The Cinnamon Bear Country Store has the cutest gifts, best toys and yummiest ice cream and is just one of the unique shops that you'll find in Harbour Town.
Coligny Plaza Shopping Center
Built in 1955, Coligny Plaza Shopping Center has something for everyone.  With more than 60 shops and restaurants there are plenty of options for everyone in your family.  From beach boutiques carrying clothing, hats, and sunscreen to local handmade decor and Christmas decorations, you can find "it" here.  Plus, there's an ice cream shop here as well, so make sure you stop at Coligny Ice Cream Cone and Deli for lunch and dessert afterwards!
5. Dolphin Watching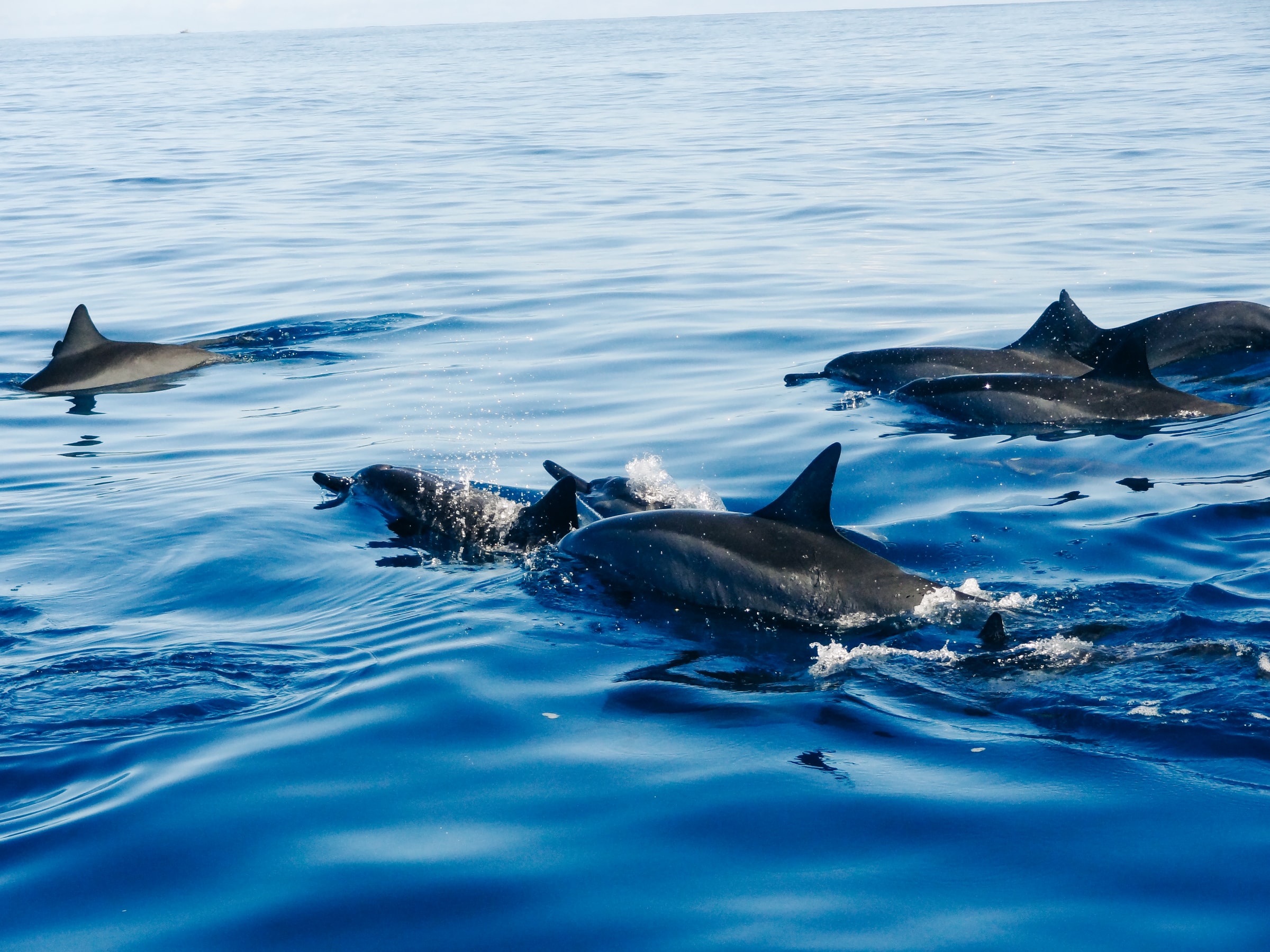 Atlantic Bottlenose Dolphins are pretty common in the waters around Hilton Head Island and there are many tours and cruises to see these beautiful creatures.
One HHI
One HHI offers many different dolphin tours to pick from depending on your preferences.  Want to get out on the water early and enjoy a donut?  They have a tour for that.  Want a private dolphin tour for your family and friends on vacation with you?  You can book that to-up to 6 people.  They even do dolphin tours on a pirate ship!  How cool is that?!
Vagabond Cruise
Another great option for Dolphin sightings is Vagabond Cruise.  This company even offers an Ocean Cruise for Dolphin sightings.  According to their website, they're the only company that does an Ocean Cruise for Dolphins.  If you're looking for a very family friendly Dolphin Cruise, Vagabond Cruise offers Gregg Russell Bubble Gum Cruise where they entertain your kids with fun songs and games while teaching them about the environment and the Carolina Lowlands.  Just a word of caution-this cruise is fully booked many months in advance, so plan ahead!
Check out this article of what two people might spend on a vacation to Hilton Head Island, SC!
Dolphin and Nature Tour
These Dolphin Tours with Sonny C. Charters offer something pretty unique.  Take a tour with them and Dolphin sightings will happen-otherwise they give you a free ride at a later date!  During this narrated cruise, the captain will take you down Broad Creek where you will see Dolphins (of course) and many other animals including Mink, Otters, and many different birds.  You also get the chance to check out some of the beautiful homes in Hilton Head Island.  Choose from a daytime or sunset cruise.  Also available are private cruises for 2 or more people.
6. Swim in the Ocean
You can't go to Hilton Head Island and not check out the ocean, right?  Hilton Head Island has 12 miles of shoreline for you to enjoy.  The beaches are wide, the sand is perfect, and the sun is usually shining.  Pick a beach and enjoy, you can't go wrong!  Below are just a few options that Hilton Head Island has to offer for your beach day.
Coligny Beach Park
Coligny Beach Park is a popular and highly rated beach that is perfect for a beach day.  It has all the amenities you could ask for.  You'll find chair and umbrella rentals, changing rooms, outdoor showers, and restrooms.  Coligny Beach Park is wheelchair accessible leading down to the water, and it has free Wi-Fi so you can post all your beach photos and make your friends and family jealous.  Free parking is available and there are plenty of bike racks if you choose to bike to the beach.
Driessen Beach Park
This somewhat secret beach isn't as popular with the tourists as other beaches.  It's harder to find and on the slightly less touristy northern part of the island.  If you do manage to find your way to this hidden gem, you won't be sorry.  Driessen Beach Park has an extremely wide beach, playground, grills, wooded walking paths, restrooms, and outdoor showers.  And did I mention there's usually less people there?  Parking is super cheap at $0.50/hour, so you could enjoy an entire day at the quiet beach and not spend a ton of money.
Burkes Beach
This beach is usually less crowded and rowdy than Coligny Beach Park and because of that, it's more family friendly.  Dogs are welcome.  This is one of the better beaches for surfing and boarding, as the waves can be a little bigger here.  There is a limited amount of paid parking, but if you go here in the off season, it's usually not a problem.
7. Eat at Amazing Restaurants
Everybody has to eat, right?  But Hilton Head Island has some pretty cool restaurants that you need to check out.  Want to try some new seafood or just enjoy some beautiful views while you eat, Hilton Head Island has what you're looking for.  Just looking to get some late-night appetizers while you enjoy some live music, Hilton Head has that to.
Hudson's Seafood House on the Docks
Hudson's Seafood House on the Docks has incredible seafood and gorgeous views.  This 50-year-old restaurant is a favorite with tourists and locals, for good reason.  While enjoying the freshest seafood possible you also get amazing views of Port Royal Sound.  90% of the seafood they serve is caught by local fishermen.  It's brought in whole and filleted in the restaurant.  You can't get much fresher than that!
Skull Creek Boathouse
This local favorite has a huge menu!  If you're craving some local fresh seafood, this is a great restaurant for you to try.  Plus, they serve sushi.  Can't go wrong with that!  They also have a huge variety of salads and sandwiches to choose from if you aren't craving seafood, as well as pasta. If you have a vegetarian in your family, there are options for them as well!  This waterfront restaurant plays live music almost every night during the summer months, and occasionally during the off-peak season as well.  Just check their Facebook page for events.
Skull Creek Boathouse also has a cute little General Store that you must check out when you're there.  They carry a wide variety of items like clothing, hot sauce, and drinkware.  If you're one of those people who likes colorful socks, they have socks with a map of Hilton Head Island.  Never get lost on Hilton Head Island again!
While Hilton Head Island restaurants serve some of the best seafood around and you should check them out, here are some choices for when you are craving something else besides seafood.
A Low Country Backyard Restaurant
Ok, ok so this restaurant also serves some seafood.  It's hard to find a restaurant close to the ocean that doesn't!  But this restaurant also serves the kind of food that's been served in the low country for decades.  The Shrimp and Grits are their specialty, and they are FAMOUS for it.  Also, they serve South Carolina Moonshine and it'll knock your socks off, it's that good.  A Low Country Backyard Restaurant has been winning awards for years for their delicious food.  Like any excellent restaurant the wait here can be long, so arrive early!
The Jazz Corner
The Jazz Corner offers something that most restaurants are not able to do.  It offers an intimate music show with excellent food and drinks.  Twice daily jazz shows keep you entertained the entire time you're enjoying your meal.  And the food is excellent!  The menu focuses on the Southern flavors of the area like seafood and ribs.  They've had a couple of decades to perfect the experience and they have done it!  Call ahead for reservations because this little gem fills up fast and you don't want to miss out on an unforgettable evening!
Hilton Head Ice Cream Shop
If you've been paying attention while reading so far, you've come to realize that stopping for ice cream is an absolute must while in Hilton Head Island.  Hilton Head Ice Cream Shop has been around since the 1980's and they know their ice cream!  Homemade ice cream with the freshest ingredients.  Sounds delicious!  Along with the usual ice cream flavors like chocolate and vanilla, they also serve a plethora of other flavors like Superman, Oreo, and Cinnamon.  Craving one of their seasonal flavors when it's not in season?  Call ahead by at least 48 hours and they'll make it fresh, just for you!  How sweet (pun intended) is that?
8. The Arts
Hilton Head Island has lots to offer in the way of the Arts.  From live music to art museums, you can find something for every member of your family.
Coligny Theater
This "art house" shows mainly films by independent producers.  Films like 2001: A Space Odyssey and Close Encounters of the Third Kind are very popular here.  Coligny Theater also has some cool artwork inside and outside the building that was done by a local artist.
Arts Center of Coastal Carolina
This theater produces 5 different comedies and musicals every theater season.  Every part of the play is created in house and the performers are some of the very best, most have even performed on Broadway.  Arts Center of Coastal Carolina also hosts events in schools and online to get students interested in the arts.  They even have an art camp during the summer for kids to enjoy!
The Gullah Museum of Hilton Head Island
Related to the slaves of South Carolina, the Gullah people are an African-American people.  The Gullah Museum of Hilton Head Island is all about trying to preserve their history and teach people about the customs and traditions that were present on the island before the first bridge from the mainland was built to the island back in 1956.  There's even an annual Gullah Food Festival with music, face painting, and of course food!
Music and Taste on the Harbour
Almost every Thursday night during the spring and fall months you can dance your heart away to live music at Shelter Cove Harbour and Marine.  This is a great way to spend a Thursday night on the island.  It's pet friendly and there's food stands.  Bring your own chairs if you'll want to sit down at all!
Nash Gallery
Take some time out of your vacation to go to the Nash Gallery and enjoy the functional pieces of art created by 150 local artisans. This colorful and fun gallery allows you to purchase and support the local artists.  From glass to metal and jewelry, there are pieces here that will speak to your artistic side.  The items they have are gorgeous, and the prices range from inexpensive to several hundred dollars.  If you're looking for gifts to bring back home with you, give Nash Gallery a try.  You'll probably find something you love!
9. Golfing
Hilton Head Island is known for its great Golf Courses.  So, if you're looking to work on your game while on vacation, you can rest easy knowing you can practice your swing while enjoying some beautiful views.
Palmetto Dunes Golf Courses
With 23 championship courses, Hilton Head Island is one of the best places to play golf.  On the beautiful Palmetto Dunes Oceanfront Resort, you can find three of those championship courses.  With three different courses and impressive customer satisfaction, it's easy to see why they're one of the best.  Each of the different courses was designed for a different skill level, so if you're a beginner golfer, you can relax and just enjoy the game.  There's even an app for the golf courses with GPS, golf tips, hole by hole information, and more.
Harbour Town Golf Links at Sea Pines
Get in a game of golf on one of three championship golf courses at the beautiful Sea Pines Resort.  These courses are considered a must-play in the Southeast Atlantic Coast.  With gorgeous views of the Lowcountry you can enjoy the views while practicing your swing.  Each course is designed to be unique and have its own character.  There's also a Golf Learning Center where you can get a pro golfer to help you improve your game.
Hilton Head National Golf Club
So, Hilton Head National Golf Club isn't technically in Hilton Head Island, it's across the bridge in Bluffton.  But it's close enough to be included in this list.  Hilton Head National is known for having a course that's hard, but not too hard.  It's consistently rated one of the best courses in South Carolina.  One unique thing about this course is that there aren't houses outlining the course.  It's pretty wide open, so if you aren't the best golfer, you don't need to worry about lobbing a golf ball into a house.  Reading through the reviews for this course you'll find there are many repeat customers!
10. Farmer's Markets
I love checking out Farmer's Markets when I'm on vacation.  I love seeing all the local fresh fruits and vegetables for sale along with all the arts and crafts that artists create.  Plus, a lot of times you can get free samples of some really delicious food!  What better way to spend a day off in a new location than spending the day meeting and getting to know the locals!
Sea Pines Center Farmer's Market
Occurring every Tuesday (10-2, seasonal) this Farmer's Market is in its 8th season.  With fresh produce, fresh bread, fresh seafood, and more, you'll be able to feed your family with healthy and ripe food picked at the perfect time.  Don't forget to buy some freshly made cookies for dessert!
Hilton Head Farmer's Market
Happening every Tuesday from (9-1) at the Coastal Discovery Museum, this Farmer's Market is always looking to expand its vendors.  From fresh produce, homemade desserts, fresh eggs and meat, plus rotating food trucks, this is a great family outing!  While pets aren't usually allowed at open air Farmer's Markets, that doesn't mean you can't take a treat or two home to your four-legged friend.  The vendor Diddybiteya makes great dog treats!
Bluffton Farmer's Market
Right on the other side of bridge to Hilton Head Island is a great Farmer's Market!  On Thursdays (12-5pm) you can find fresh produce, desserts, honey, and local restaurants selling their offerings.  There's usually music playing while you peruse all the local creations.  Don't forget to check out the cute little shops lining the street!  This Farmer's Market is a favorite of tourists and locals alike, so don't forget to check it out!
Conclusion
There are so many more activities to do on your vacation than the ones I've mentioned here.  There are fishing cruises, mini golf, pickleball, breweries and distilleries to name a few.  If you vacation in Hilton Head Island you will have no problem finding something to do, but I hope I've given you some ideas with my list of the 10 ten things to do in Hilton Head Island, SC.