THIS POST MAY CONTAIN AFFILIATE LINKS, MEANING I GET A COMMISSION IF YOU DECIDE TO MAKE A PURCHASE THROUGH MY LINKS, AT NO COST TO YOU. PLEASE READ MY DISCLOSURE FOR MORE INFO.
Last fall, my husband and I spent three nights tent camping in Whitewater State Park in southeast Minnesota. It was a lot of fun! The park was beautiful, the campsite was excellent, and the hiking was challenging (and fun). There's a cute retail store in the park if you're looking for souvenirs, and it's a great way to support the park. They have clothes, coffee mugs, trinkets, camping supplies, and even ice cream! I highly suggest checking out Whitewater State Park. 
Whitewater State Park
The park itself has 2,700 acres and is in a valley (so cell reception is very limited). There's a river that runs through the park and is said to have excellent trout fishing, although I can't say for sure since we didn't try to fish. We did see fishermen in the river several times, though. There is a swimming beach but, if I were you, I would only go swimming in the early summer. We were there in late August, and the water looked pretty murky. The park also has a visitor's center and a group center.
There are several different options for where to stay within Whitewater State Park. There is an electric campground (Minneiska Campground), non-electric campground (Cedar Hill Campground), group camp, and cart-in campsites, and they have two camper cabins with heat and electricity. Since we were in the non-electric campground, I can only advise on that. The non-electric campground has some campsites with access to a river. We stayed in site 46, but the following campsites all have a path to the river: 45,46, and 48-51.
If you're brave enough, feel free to bring your swimsuit and jump in the river! It's normally pretty shallow, but if you explore the river, you'll find some deeper spots. We saw many people just walking in the river and exploring. It's a great way to cool off in the summer!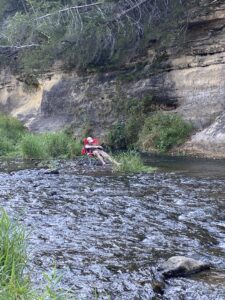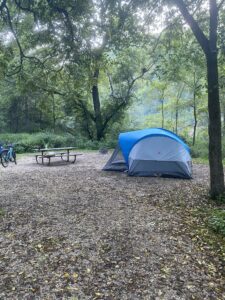 The campsites are moderately private. There are some trees and bushes between the campsites, but they are also pretty open alongside the road. When we were there, everyone followed the quiet hours, and we were able to hear the river from our tent while sleeping. It was so relaxing! 
The bathrooms/showers are excellent and very clean. They have two private showers with a toilet and sink and four private shower-only rooms. The water there is hot! It was so hot I could barely shower. If you walk out of your shower at home and look like a lobster, however, you'll probably love the showers at Whitewater State Park.
Are you looking for places to kayak or go biking in Minnesota? Then check out these articles on Best 7 Minnesota Lakes for Kayaking or The 6 Best Minnesota State Parks with Paved Biking Trails.
Hiking Trails in Whitewater State Park
The hiking trails at Whitewater State Park are some of the best in the state! The views are beautiful. And it is challenging in a lot of areas. I consider myself to be somewhat in shape, and I was breathing pretty heavily trying to climb these trails. They're steep, so steep that the park has put in stairs instead. I suggest using hiking poles if you need help getting up and down hills sometimes.
Dakota Trail
The Dakota trail takes you around the park and up and down and around the valley. You'll see views of the bluffs and the river. It's the longest hiking trail in the park at a little over four miles. If you like to hike up and down hills, this trail is for you. The Eagle Point overview is fun to climb to and enjoy all the views. 
Chimney Rock and Inspiration Point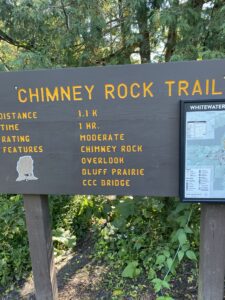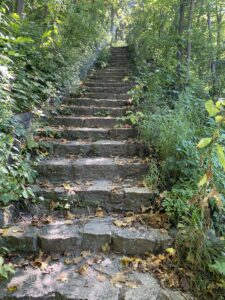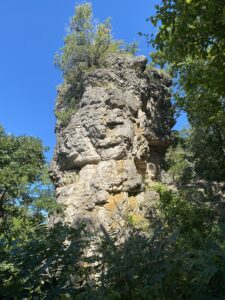 Chimney Rock and Inspiration Point are two of the harder trails in the park. The climbs are pretty steep and there are some stairs on the trails. However, the trail is pretty short to Chimney Rock, so that's something to look forward to. It's less than a mile. The views from here are incredible.
The hike from Chimney Rock to Inspiration Point is a mile. Again, the views here don't disappoint. There's a reason it's called Inspiration Point. The camera can't capture how beautiful it is, no matter how hard you try.
Trout Run Creek Trail
After we hiked to Inspiration Point, we continued on and hiked the Trout Run Creek trail. This trail doesn't have hills, but there are signs to watch out for rattlesnakes. We didn't see any rattlesnakes at all during our camping trip.
This trail was fun because we were able to see hummingbirds! The trail was slightly overgrown with Jewelweed, which was awesome because hummingbirds love Jewelweed! Hummingbirds were buzzing around us the entire time on the trail.
There are also a couple of river crossings on this trail. We took a little break on one of the bridges and soaked our feet in the water. It felt really good in the cold stream! The trail just kind of ends at a bench facing a bluff by the river. This is a dead-end trail, so you have to go back out the way you came in.
Coyote Point Trail
Coyote Point Trail is the "Hiking Club" trail for the park and is a little less than three miles long. This was the first trail we hiked after we got our campsite all situated. It was the closest trail to us, and it turned out to be a little more challenging than I was expecting!
There's a river crossing right by the campground and right after that, the climbing begins! I didn't have my hiking poles with me for this hike, and I was regretting it. It's pretty steep! Once you get to the top you start to see little peeks of the valley and how high up you are. Eventually, you'll make your way to the lookout, and you can sit on the bench and enjoy the view.
This trail meets up with the Dakota Trail, so you can either continue from here or turn around and head back the way you came. 
Meadow Trail
The Meadow Trail is a wide, mowed trail that follows the river for a while. It's very beautiful and I suspect very popular in the summer months. It has all the pretty flowers. This trail is a little less than two miles long and is pretty flat. It's a very easy hike.
Valley Trail
The Valley Trail is pretty flat and a mile and a half long. It takes you through the woods at the bottom of the valley. There's not too much to see on this trail. All the views are at the top!
We brought our bikes with us, but there aren't any biking trails in or next to the park. You'd have to drive a little ways if you wanted to hop on a bike trail. However, we did use the bikes to check out the campgrounds and learn the lay of the land.
What else did we do besides hiking?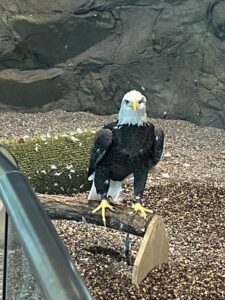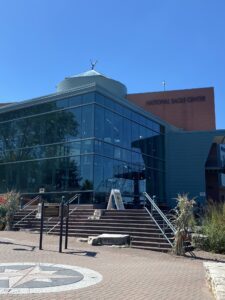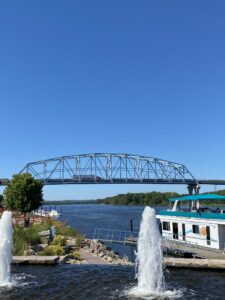 While we could spend hours hiking when we're camping, I knew we were close to Wabasha, MN. And I wanted to see the National Eagle Center! Who doesn't love eagles? They're amazing creatures. So, we drove the forty minutes it takes to get from Whitewater State Park to Wabasha and spent a couple hours there enjoying the downtown area, local candy shop, and the National Eagle Center! The National Eagle Center is in the downtown area of Wabasha, right on the Mississippi River. The Mississippi River runs through Wabasha, and it is a beautiful view. There's a cute, small park right by the Eagle Center that has spots for visitors to sit and take in the relaxing sights of the Mississippi.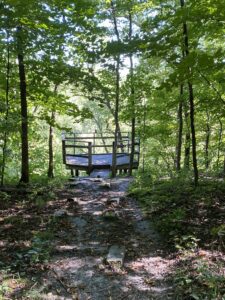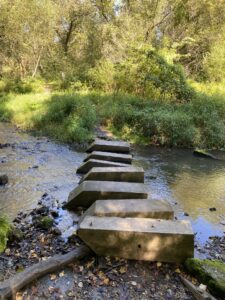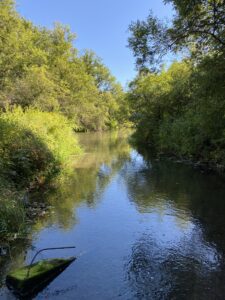 On the drive to Wabasha, we also stopped at Carley State Park. Carley State Park is a small park with five miles of hiking trails, mostly following along Whitewater River. We took the one-mile hiking trail that's a big loop. It took about an hour to hike. While it was pretty and very secluded, there isn't much to say about the park. If Whitewater State Park is too crowded, and you want to get away from people for a few hours, then I suggest checking out the hiking trails of Carley State Park.
Conclusion
Whitewater State Park is now right up there with Itasca State Park for being my favorite state park in Minnesota. I honestly don't know how I went 40 years without even knowing about it. We've already talked about going back there to camp again. It has everything-views, hiking, great campgrounds, and nice bathrooms!
If you haven't been to Whitewater State Park, I highly suggest you check it out!