THIS POST MAY CONTAIN AFFILIATE LINKS, MEANING I GET A COMMISSION IF YOU DECIDE TO MAKE A PURCHASE THROUGH MY LINKS, AT NO COST TO YOU. PLEASE READ MY DISCLOSURE FOR MORE INFO.
Have you ever wanted to vacation in Hilton Head Island, South Carolina?  I don't blame you.  There's warm ocean water perfect for swimming, kayaking and fishing, plenty of trails for biking or hiking, boutiques to do some shopping, plenty of restaurants for dining.  There's so much to see and do!  The article below is all about what two people might spend on a vacation to Hilton Head Island, SC.
ParkSleepFly
Whenever my husband and I plan a trip, we usually get a hotel room close to the airport the night before our flight.  We book a room at what's known as a park, sleep, fly hotel.  These hotels let people park their vehicles at their hotel for the duration of the trip, with shuttles to and from the airport built into the price.  To find hotels that allow you to park your car during travels visit ParkSleepFly.com.  I'm not an affiliate and I'm not getting paid to recommend their site.  I just really like it and have used it for the last three vacations we've booked.  It's seriously so convenient!
This time we booked a room with Hilton Garden Inn Minneapolis Airport Mall of America.  These hotels get booked pretty early, so it's best to get a room booked as soon as your trip is planned.  Since we live an hour and a half from the airport and like to book the earliest flight possible, it just makes sense for us to get a hotel room close to the airport.  The only bummer is we usually book flights that take off really early, so we aren't able to take advantage of the hotel's free continental breakfast, and instead have to buy expensive airport food before the flight.
Cost for the ParkSleepFly Hotel Room, 7 days of parking, and tips for the shuttle drivers was $154.41.
Flights
We flew with United Airlines for this trip.  We had two layovers.  Total cost for four flights for two people was $460.94.
Airport Food and Drink
On our travel day to Hilton Head Island, SC, we got breakfast at the Chicago O'Hare airport during our layover.  We found a breakfast cafe called Berghoff Cafe.  Totally cost for two small breakfast wraps and one coffee was $23.16
We had a layover in Dulles International Airport on our way back home.  For food options, we had a choice between Pizza Hut and Wow Bao.  We went with Wow Bao.  It was the first time trying Wow Bao for both of us.  It was pretty good.  I'd definitely stop there again.  Total price for 8 Potstickers + Dumplings and the Spicy Kung Pao Chicken Bowl was $25 with tip.
Palmetto Dunes Resort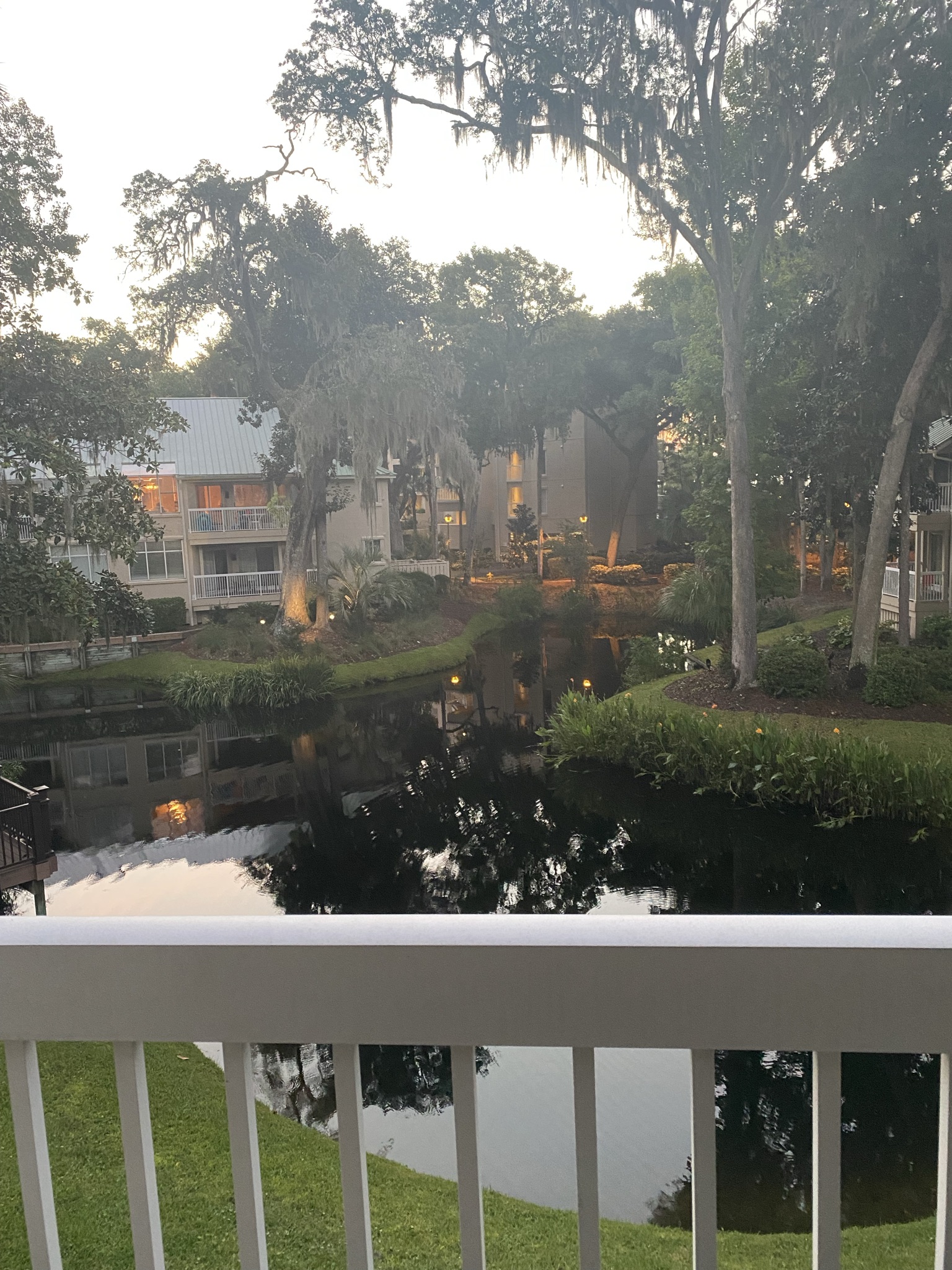 We stayed at the beautiful Palmetto Dunes Resort.   We rented a 1 bedroom, 1.5 bath condo for 5 nights.  It was a really nice place with a full kitchen.  We had to remember a 6-digit code for the keypad entrance instead of worrying about key cards or keys.  That was definitely a plus.  No one wants to carry around key cards when you're at the beach.
Unfortunately, I think the resort has a little bit of a cockroach problem.  We had three cockroaches in our room throughout the weeklong stay.  Two of the bigger American Cockroaches and then a smaller German Cockroach.  The resort will try and tell guests that the large American Cockroaches are actually Palmetto Bugs and are perfectly harmless.  Google will say that they are one and the same.  If it looks like a cockroach and acts like a cockroach, it's a cockroach.
Palmetto Dunes requires half of the total cost when you book the room, and the other half needs to be paid 30 days before your stay.  Total cost for 5 nights at Palmetto Dunes $1772.28.
Bike and Beach Rentals
I ordered a 5-day bike rental (for 2 bikes) plus 2 beach chairs and 1 umbrella.  I booked the rental from Hilton Head Outfitters and Bike Rentals for a discount when I booked our condo, so I wasn't even sure if we needed either the bikes or the beach chairs.
Hilton Head Outfitters and Bike Rentals is right on the Palmetto Dunes property, so they offer a complimentary delivery and pick-up.  I highly suggest getting bike rentals for your stay in Hilton Head Island.  There are really nice bike trails ALL OVER the island and you could spend a whole day just biking around.
As for the beach chairs and umbrella, we didn't need to rent the chairs.  It turns out there was a walk-in closet in our rental that had a lot of beach accessories, including chairs.  We still would have needed the beach umbrella though.  It gets HOT down here and the sun is magnificent, but brutal.  I definitely suggest renting a beach umbrella.  Total cost for the bikes and beach accessories was $146.35.
We also used Hilton Head Outfitters and Bike Rentals for a 2-hour kayaking trip around the 11-mile lagoon that is right next to Palmetto Dunes.  Total Cost for the double kayak that we rented was $65.53.
Car Rental
We ended up renting a Hyundai Elantra from Alamo for $607.33 for our stay.  We picked it up at the airport in Savannah, GA and dropped it back off there when we flew out.  It was definitely a rental!  The steering wheel squeaked and there were stains on the front and back seats.  Big stains.
Food
I always try to book a suite with a kitchen wherever we go on vacation because we enjoy cooking our own meals, and it can save a lot of money.  We tend to eat breakfast and lunch in our room and then go out to eat at a restaurant for dinner.  Eating out for every meal in touristy areas can get expensive.  After we arrived at our condo and checked out the kitchen, we headed to Kroger to pick up the necessities.  Total cost was $125.88.
Restaurants
Los Bravos
When we arrived in Savannah at the start of the vacation, we were starving!  I checked out what our options were in the area, and we ended up going with Los Bravos.  It was a cute little Mexican Restaurant with delicious food.  For two entrees and a soda, the total cost with tip was $35.
Ruan Thai Restaurant
Ruan Thai has excellent Thai food, and luckily for us it was very close to Palmetto Dunes.  If your new to Thai Cuisine you must try a Thai Iced Tea.  I think its sweet tea mixed with cream.  I know it sounds weird, but it's delicious!  We got an appetizer of Spring Rolls, a bowl of Tofu soup, two entrees and the Thai Iced Tea for a total of $55 including tip.  We finished everything and didn't need to take home leftovers.  Your mileage may vary.  We were starving after an afternoon playing in the ocean.
Black Marlin Bayside Grill and Hurricane Bar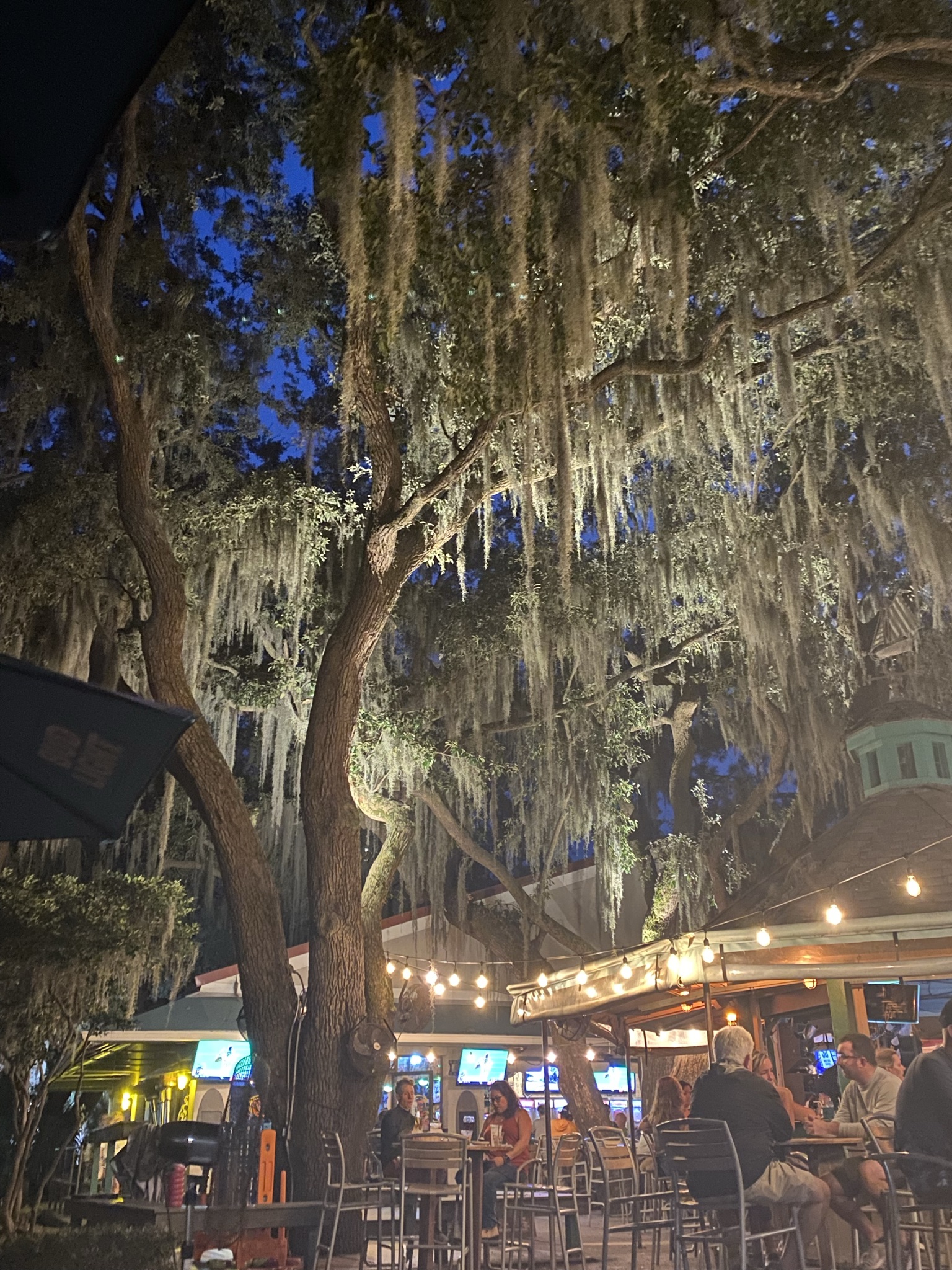 I'm a vegetarian, so I like to do research on restaurants before we go there to make sure I'll have something to eat.  Black Marlin Bayside Grill offered an Impossible burger and a Primavera Pasta.  During my research, while I was reading reviews, I read that it's a good idea to make reservations because they can get pretty busy.  I made reservations online for outside seating and it was a good, and not so good, idea.
When we arrived, people without reservations had to wait an hour to get seated.  We got seated right away, at a great table overlooking the water and boats, but after the sun went down, we started getting eaten alive!  The Sand Gnats and Mosquitos were absolutely horrible and by the time we left we had huge bites all over our legs.
The drinks were really good.  I ordered a $15 Pina Colada that was supposed to come in a souvenir glass I could take home with me.  It did not, it came in a regular bar glass.  It was delicious, though.  My husband ordered a Pumpkin beer that was really good.
The food was ok.  It was overpriced and the portions were pretty small.  I ordered the Primavera Pasta, and my husband got the Sweet Heat Mahi Mahi.  We would not go back here again.  With tax and tip, we paid $83.
Giuseppi's Pizza and Pasta
Our last night on the island we went to Giuseppi's Pizza and Pasta House.  We both really liked this place.  We both got beer and a Weggie.  A weggie can best be described as taking a half of a small pizza and folding it over so all the ingredients are on the inside.  It comes with your choice of fries, chips or pasta salad.  We both got fries.  The portions are pretty big, and I left the restaurant with leftovers.
I think we could have called for reservations, but we didn't.  We only waited for about 20 minutes, on a Friday night.  Not bad.  They have outside seating, but we opted to eat inside because we were scared to get eaten alive again.  With tax and tip, we paid $50.
Orale Taco+
After we checked out of the Palmetto Dunes, we made our way back to Savannah to catch our flight.  We ended up in downtown Savannah looking for a place to eat lunch.  After we parked in a public parking garage for $10 we started walking.  We ate at a delicious Mexican restaurant a couple blocks away called Orale Taco+.  The cost for a Burrito, Quesadilla, and a Coke was $27 after tax and tip.  
Gas
On our way back to the airport to drop off the rental car we filled up with gas at a Shell station.  I think it was $3.11/gallon.  Total cost for gas was $16.
Excursions
Vagabond Sunset Dolphin Cruise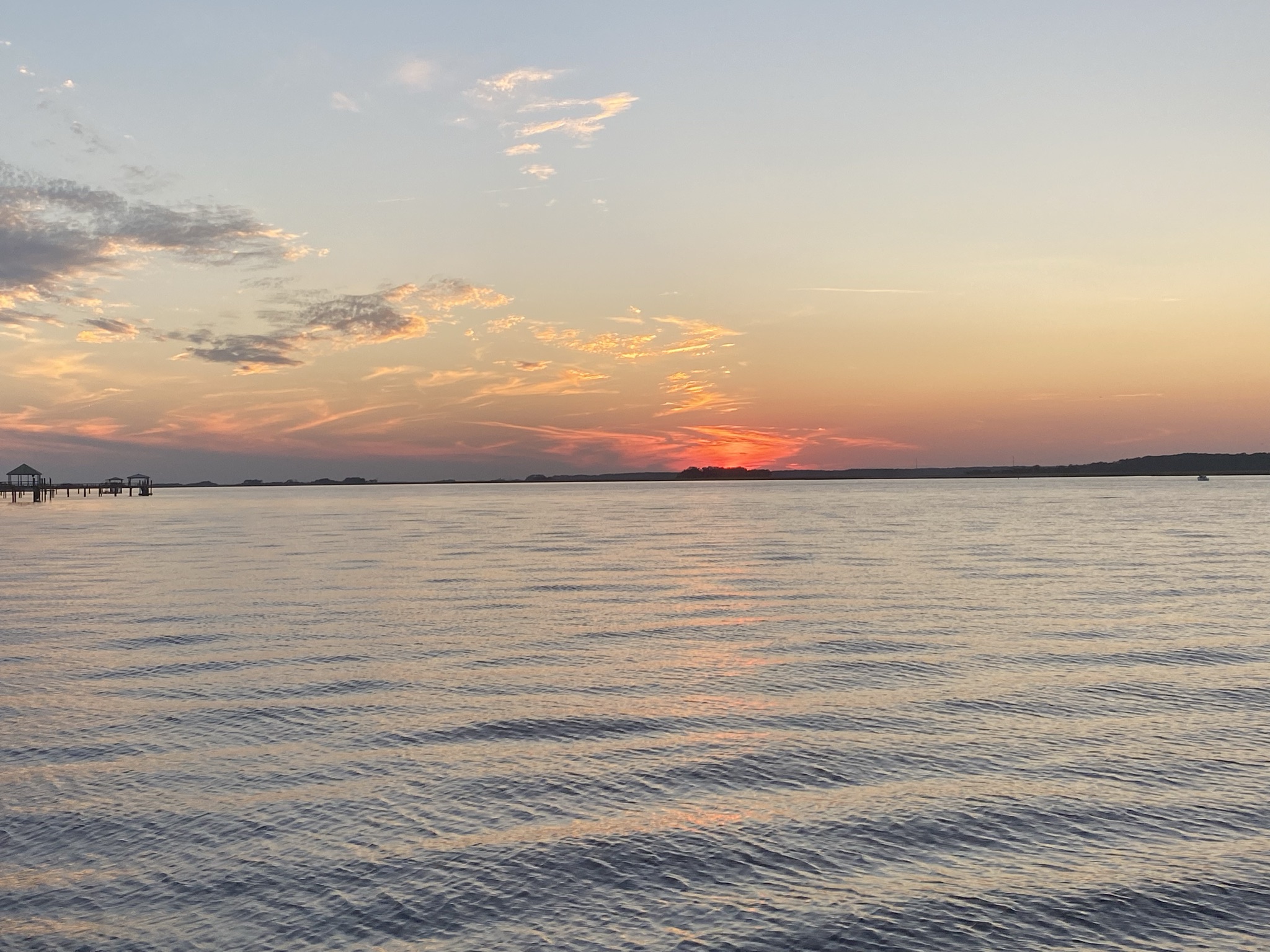 We went on a really fun dolphin cruise at sunset.  We got to see so many dolphins and a beautiful sunset.  I highly suggest the Vagabond Tours.  Justin did a really good job narrating during the cruise and took us around the neighboring island and talked about the local ecosystem, along with tons of dolphin facts.  Total for two tickets, plus $5 tip on the Dolphin Sunset Cruise was $95.29.
Vagabond Tours is located in Sea Pines Resort.  There is a $9 cash only entry fee to enter the resort.
I found out about Vagabond Tours when I was doing research for my article Top 10 Things To Do In Hilton Head Island, South Carolina.  Check it out here.
Pirate's Island Adventure Golf
They have a few places on the island that offer mini golf and the nearest one to us was Pirate's Island Adventure.  They offer two pirate themed mini golf courses and we played both of them one morning.  Total cost was $36.  When we were all done and putting our putters back, we were given two free games for another time.  We ended up going back the morning we checked out of the resort.  We had some time to spare before our flights, so we used up the two free game tokens.  I highly suggest Pirate's Island Adventure.  They had interesting pirate facts by every hole.
Other Extras
We didn't know our resort didn't supply beach towels, so before we relaxed at the beach we drove to the nearest Wal-Mart and got two beach towels, a beach bag, and new swimming trunks for my husband for a total of $53.16.
After we ate at the Black Marlin Restaurant, we did some souvenir shopping at Bay Breeze.  It's a souvenir shop in the same strip mall as the Black Marlin Restaurant that specializes mostly in clothes, but also carries other souvenir type items.  We ended up buying a hat and a sweatshirt for $63.
Conclusion
We had so much fun in Hilton Head Island!  Was it an expensive trip for us?  Yes.  Was it worth it?  For me, yes.
Could we have spent less money on our 5-night trip?  Yes.
Would we have had as good of a time spending less money?  Who knows?  I can't answer that.
My husband and I love traveling, and we try not to worry about the money we're spending when we're in a new area.  I realize I'm very privileged to have that mindset, but traveling is worth it to me.  I'll cut spending in other parts of my life to make sure I have the cash to travel.
Grand total for two people to spend five nights in Hilton Head Island, South Carolina was $3,903.33.