THIS POST MAY CONTAIN AFFILIATE LINKS, MEANING I GET A COMMISSION IF YOU DECIDE TO MAKE A PURCHASE THROUGH MY LINKS, AT NO COST TO YOU. PLEASE READ MY DISCLOSURE FOR MORE INFO.
Apache Junction is a town about 35 miles east of Phoenix. It's also close to Scottsdale, Arizona.  So, if you're vacationing in those two areas, then you need to check out Apache Junction!  It has a lot of family-friendly things to do from hiking, shopping, a ghost town, and much more!  This list of the best 15 things to do in Apache Junction, AZ has plenty of options for a fun-filled vacation to the area.
Lost Dutchman State Park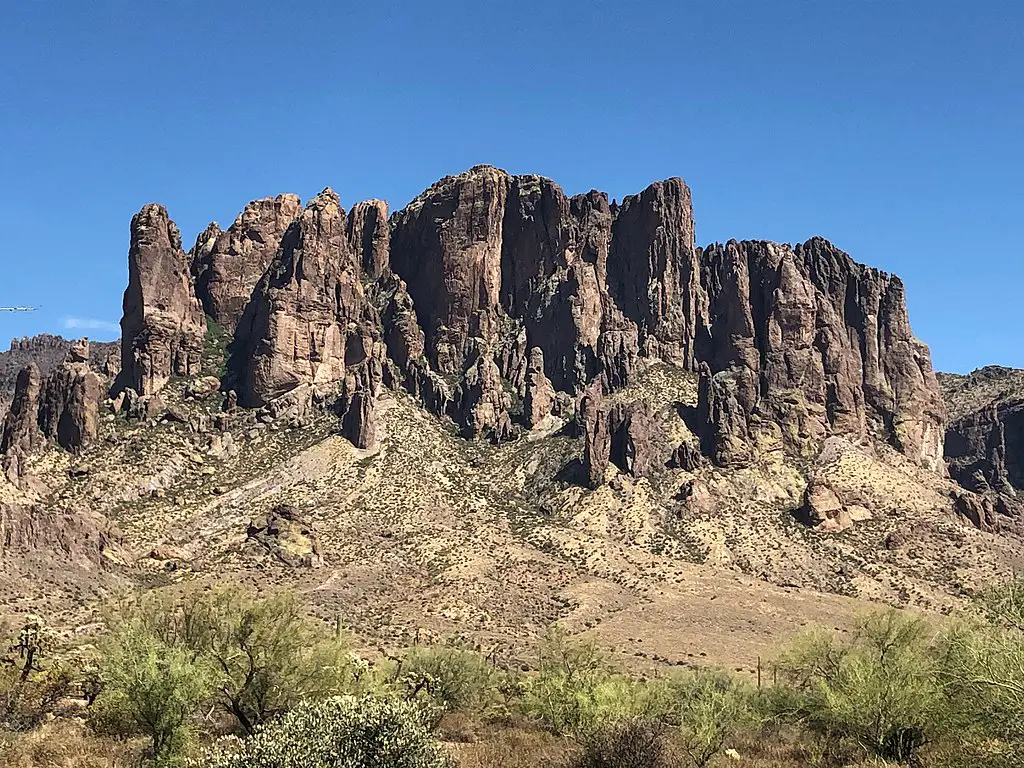 Just outside of Apache Junction is Lost Dutchman State Park. This park, named after a lost gold mine, offers visitors a chance to get out in nature. There are several hiking trails around the park, rated easy to difficult. You can learn about native plants on the Native Plant Trail or challenge yourself with the Siphon Draw Trail.
The Siphon Draw Trail is a 4-mile loop that brings you through a canyon. There's an elevation change on the trail, so this trail is best for the more experienced hiker. There's also an option to continue to the Flatiron Trail. If you choose to hike the Flatiron Trail, you'll get to see gorgeous views of the Arizona desert landscape and surrounding mountains. Make sure to bring a lot of water and give yourself about 5-6 hours to complete it.
If biking is more your thing, enjoy the 3-mile mountain bike trail in the park!
Apache Trail Tours
If you want an informative tour with a funny and knowledgeable group, then take a tour with Apache Trail Tours. You'll learn about the area while enjoying beautiful views of the desert and mountains. All from the comfort of a vehicle! Depending on the length of the tour you pick, you'll get to get out and stretch your legs a few times. These tours have some of the best scenery!
Goldfield Ghost Town
Take a walk back to the 1800s at Goldfield Ghost Town! This is such a great way to spend time in the area. There's shopping, panning for gold, an old west gunfight, ziplining, and more!
Motherlode Mercantile has that perfect gift or souvenir from the old west! While you're there, grab a free sample of their homemade fudge! If fudge isn't your thing, then try Miner's Grill and Ice Cream Parlor! You can't go wrong with delicious ice cream in a waffle cone.
Superstition Zipline will have you gliding by the ghost town with the beautiful Superstition Mountains in the background. Plus, you can choose to zipline at sunset or nighttime on Fridays and Saturdays.
Superstition Mountain Museum
At the base of the Superstition Mountains is a pretty cool museum! Superstition Mountain Museum preserves and displays the history and folklore of the mountains and surrounding region.
The museum is constantly hosting events for the public to visit and enjoy. These events include classes, concerts, speakers, cultural events, and much more.
One of the exhibits is a geological exhibit, which includes interesting rocks that have been found in the area and explains the geological past of the Superstition Mountains.
Another exhibit is a Native American exhibit, which is pretty interesting because the area has been occupied by humans for the past 10,000-12,000 years. The exhibit includes dishes, tools, and jewelry that were used by the Native Americans in the area.
The third exhibit that the museum has on display is about Jacob Waltz, the famous Lost Dutchman, and the missing Lost Dutchman mine. It explores the possibility of its existence, or not. The exhibit takes a look at the documentation and history of the area at that time.
Silly Mountain Park
Silly Mountain Park is a great park for hiking or mountain biking! It has many trails to choose from. Most of the trails are pretty short, and they range from easy to difficult. The trails have a lot of loose rocks, so wear appropriate footwear! There's also a botanical walk that showcases the native desert plants found in the area.
The park is just outside of Apache Junction.  To find it, head east on US Highway 60. It's open from sunrise to 10 pm. The trailhead parking lot fills up fast, especially on the weekends, so get there early!
OK Corral
One of the best ways to enjoy the local scenery around Apache Junction is by horseback. OK Corral has what you need for an enjoyable guided horseback ride into the Superstition Mountains. You can choose from a half-hour-long ride to an all-day adventure. Everyone is welcome from new riders to experienced and from children 6 years and up.
Mammoth Mine Rock Shop
If you're into rocks and fossils, check out Mammoth Mine Rock Shop! This is one of the best rock shops around and has a huge selection. Here you'll find fossils, petrified wood, crystals, and gemstones. The Rock Shop is next to OK Corral, so it's easy to stop in right after your horseback ride!
Barleens Dinner Show
If you want a music show with your dinner, then you need to check out Barleens Dinner Show! They play a variety of music from rock & roll, country, holiday music, and they have a variety show. Plus, they let you eat dessert first. In fact, they encourage it! They have a lunch show or a dinner show to choose from.
Apache Creek Golf Course
If you love to check out the local golf course on your travels, then you must reserve a tee time at Apache Creek Golf Course! It's the best golf course in the Apache Junction area, and it's very affordable. They have an 18-hole, Par 71 Championship Course. If you just want to practice, they have a great practice facility. They also have instructors if you need some one-on-one time with a professional to perfect your swing. After your tee time, check out the delicious bar and grill on the property. They have a great menu with breakfast and lunch items from pancakes and eggs to burgers and hot dogs.
Go Kayaking in the Tonto National Forest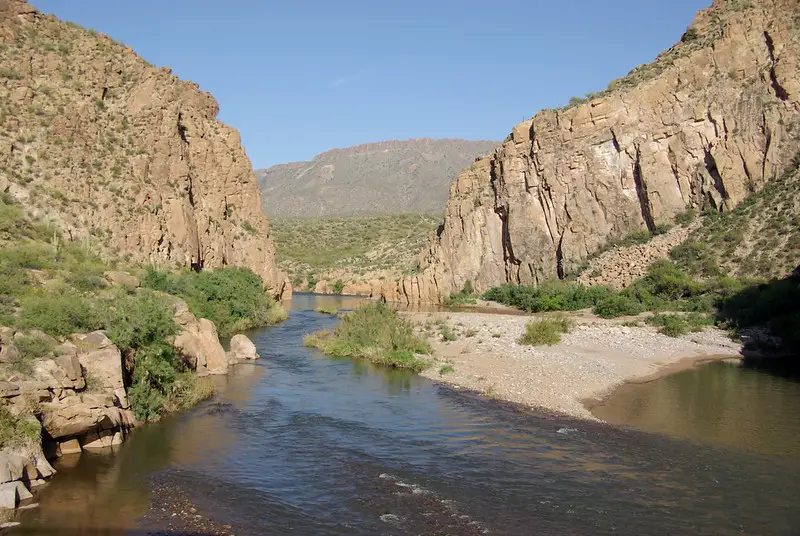 If you're in Apache Junction and want to get out on the water, you have a few choices in the area. In the nearby Tonto National Forest, you'll find Saguaro Lake, Salt River, and Canyon Lake. Canyon Lake is a manmade water reservoir with approximately 900 acres to explore. Saguaro Lake is slightly larger, at over 1,200 acres. Both lakes have scenic views of the surrounding canyon walls. You'll also see plenty of wildlife on your kayaking trip, like deer, wild horses, and bighorn sheep. Salt River is about 200 miles long and has views of cliffs, canyons, large desert cacti, and plenty of wildlife.
If you need to rent kayaks, Saguaro Lake Guest Ranch can help you with that. They also offer a few different kayak trips to choose from in either Saguaro Lake or the Salt River. If you need to rent a kayak to paddle around Canyon Lake, then Precision Marine is where you need to go. They have single or double kayaks for rent by the hour or half-day.
Check out my other articles on kayaking:
Best 20 Ohio State Parks for Kayaking
14 Best Lakes to Kayak in Wisconsin
Best 7 Minnesota Lakes for Kayaking
Handlebar Pub and Grill
Handlebar Pub and Grill is one of the best places to enjoy a meal in Apache Junction! Not only do they have delicious food, a large drink menu including 29 beer taps, wine, and a large selection of mead, but they also have live music every night. The food includes items like BBQ, burgers, and tacos. They also have vegetarian options for the non-meat eaters in your family.
Los Gringos Locos
So, you can't be in the Southwest without having some Mexican food, right? If you're in Apache Junction, then enjoy a meal at Los Gringos Locos! They have some of the best Mexican food around, and they even serve breakfast! Enjoy some huevos rancheros or steak and eggs before starting your day. They have a large menu with plenty of options for everyone in your family, including vegetarians and picky children!
Lost Dutchman Days 2023
From February 24-26, 2023, Apache Junction is celebrating Lost Dutchman Days. This 3-day event is full of fun for everyone in your family! There's a parade, a carnival, and even a rodeo. Plus, there's also a marathon for all the runners in your family. They also have lots of vendors peddling their wares. You'll find some pretty neat stuff available for sale like art, pottery, clothing, and much, much more.
Artists of the Superstitions
Around 75 artists make up the Artists of the Superstitions and they love to showcase their work! They have several art shows throughout the year, and their work is amazing! You'll find all sorts of works of art from ceramics and photography to jewelry and watercolors, and so much more. The artists get their inspiration from the local mountain and showcase the beauty of the area in their works.
Renaissance Festival
Just 7 miles from Apache Junction the Arizona Renaissance Festival is held annually. If you've never been to a Renaissance Festival, you're in for a treat! There is delicious food, demonstrations, shows, costumes, swords, horses, arts and crafts, and so much more. It's a medieval festival that can't be missed. Held in February, the dates for 2023 haven't been confirmed yet.
Conclusion
Apache Junction, AZ has so many things to do! The Superstition Mountains and surrounding Tonto National Forest are beautiful and just so full of mystery. It's such a great place to get out and explore the wilderness. Apache Junction is great because it has everything you need for a great vacation, but it's right on the edge of a Wilderness Area.  It has something for every member of your family.  I hope this list of the best 15 things to do in Apache Junction, AZ has given you and your family some ideas on how to spend your time in the area.