THIS POST MAY CONTAIN AFFILIATE LINKS, MEANING I GET A COMMISSION IF YOU DECIDE TO MAKE A PURCHASE THROUGH MY LINKS, AT NO COST TO YOU. PLEASE READ MY DISCLOSURE FOR MORE INFO.
One of the best activities to do when camping is checking out the local scenery on bikes.  It gets you from A to B faster than walking and you're still able to see wildlife up close.  Plus, if you feel the need to burn some calories after too many delicious, heavy camping meals and S'mores, biking is a great exercise.  If you prefer a paved biking trail when camping instead of an unpaved mountain biking trail, then check out the list below of the 6 best Minnesota State Parks with paved biking trails.
Itasca State Park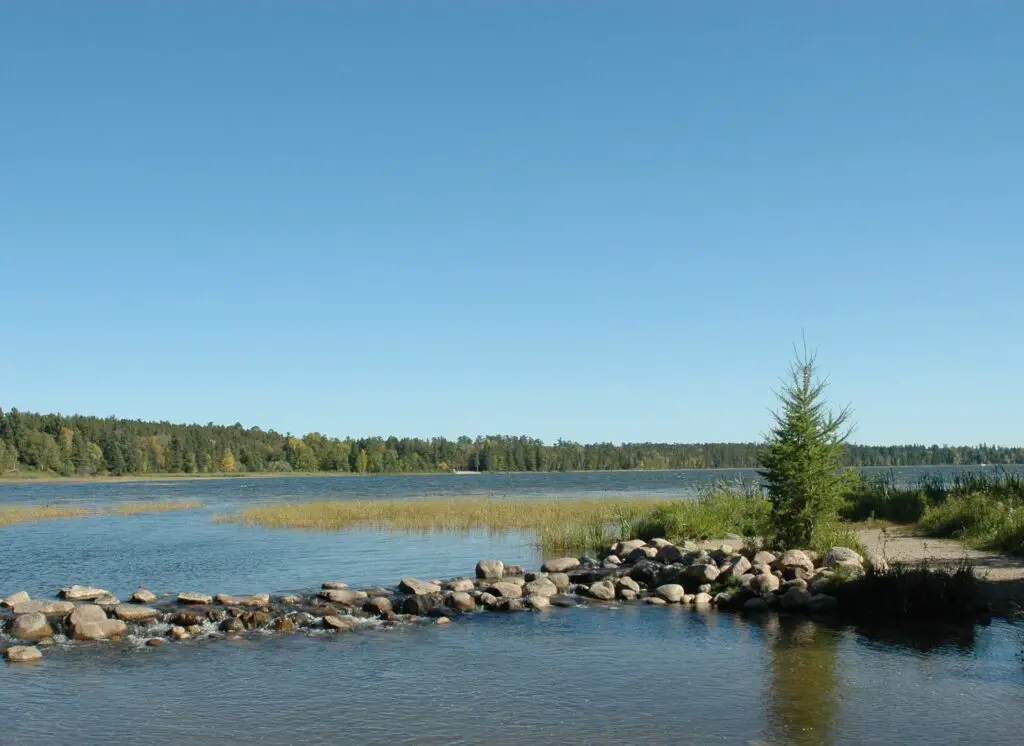 A very popular and large park in Park Rapids, MN, Itasca State Park has plenty of trails for hiking and biking.  Many people go to Itasca State Park just to see where the Mississippi River starts.  If the water is low enough you can easily hop across the river using the large rocks the park has placed there for people to use.
Itasca State Park has a fire tower that you can climb, and if you're brave enough to make it all the way to the top, you can see the beautiful landscape that makes up that area.  If you'd rather stay on the ground, there are six miles of paved biking trails between Douglas Lodge and the Mississippi River.
You can also choose to do a 10-mile loop on a scenic drive that has some fun hills to bike.  This one-way loop is on a road, so there will be traffic, however the speed is limited to 20 mph.  There are quite a few trails and stops on this loop so allow yourself some extra time to check out all the sites.  After a long day of hiking and biking don't forget to treat yourself to an ice cream malt or sundae at Douglas Park Lodge.
Gooseberry Falls State Park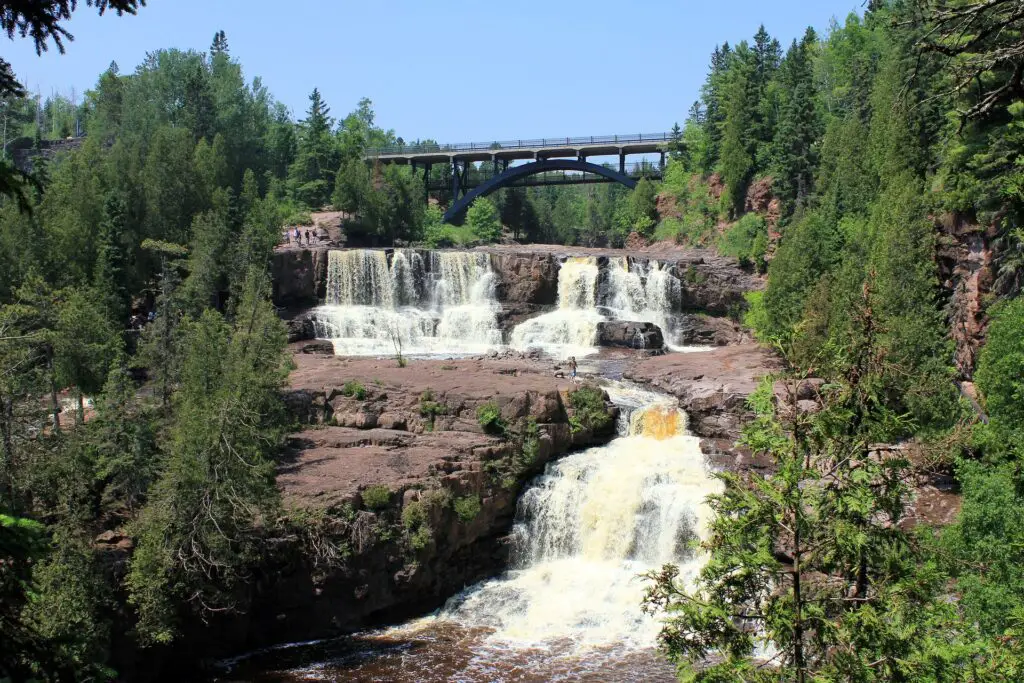 This unforgettable State Park is in Two Harbors, MN.  It's a popular, picturesque state park best known for it's waterfalls.  If you decide to check it out, leave plenty of time to check out the three different waterfalls-aptly named Upper, Middle, and Lower Falls.
If you're new to Minnesota, this State Park is a must see.  There are lots of hiking trails and a paved bike trail that connects with the Gitchi Gami State Trail.  This trail will bring you along the shores of Lake Superior with plenty of sightseeing along the way.  When completed this trail will have 86 miles of paved biking trails.  The Gooseberry Falls to Beaver Bay segment is a little over 14 miles and is a blast to ride.  There are steep hills that get your heart pumping up and down the hills.  If you need a break, there are awesome rest stops at Split Rock Lighthouse State Park and Iona's Beach.  This trail will keep you busy for hours.
Jay Cooke State Park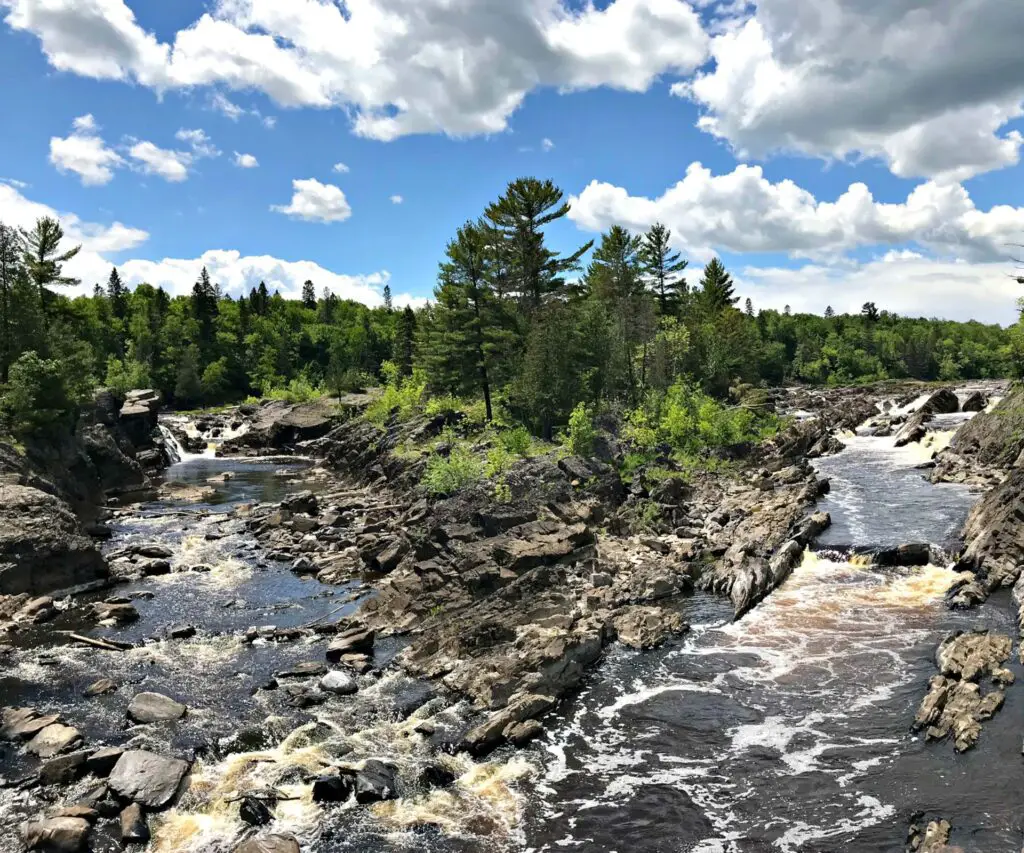 This beautiful park in Northern Minnesota is perfect for biking in the summer months.  There are 8 miles of paved biking trails in the park which continue North and South of the park.  The biking trails in the park connect with the Willard Munger State Trail.  If you choose to bike the trail North out of the park, it'll take you towards Duluth, MN with views of the St. Louis River on the way.
If you take the Southern route of the Willard Munger State Trail, you can bike close to 60 miles down to the town of Hinkley, MN.  If you make it all the way down to Hinkley, make sure you do a little gambling at the Grand Casino of Hinkley and get a bite to eat at one of their five restaurants.
Lake Bemidji State Park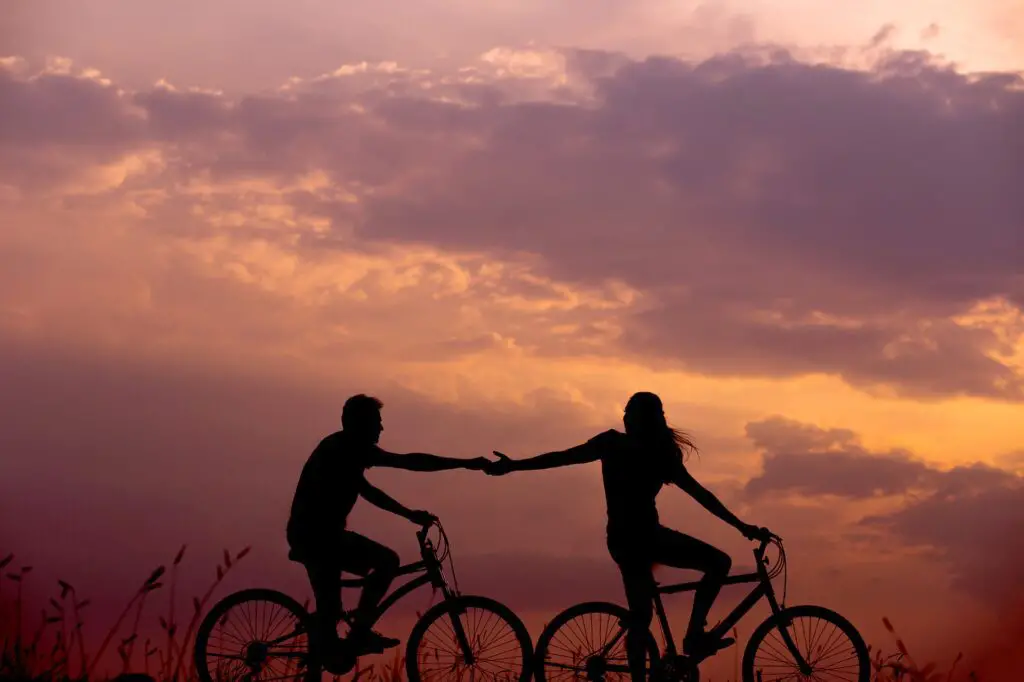 This park north of Bemidji, MN doesn't have many miles of biking trails within the park, but the trail that it does have is the Paul Bunyan State Trail.  This trail is the longest paved biking trail in MN at 115 miles long.  It starts in Lake Bemidji State Park and makes it's way all the way down to Crow Wing State Park south of Brainerd, MN.
This trail goes through the town of Bemidji and it's highly suggested to get off the main bike trail a little bit and check out the town.  There are ice cream shops and plenty of restaurants to refuel at before you continue your bike ride.  The Paul Bunyan State Trail also connects with the Heartland State Trail, another paved biking trail that continues on for 49 miles, down to Park Rapids, MN.
Minnesota Valley State Recreation Area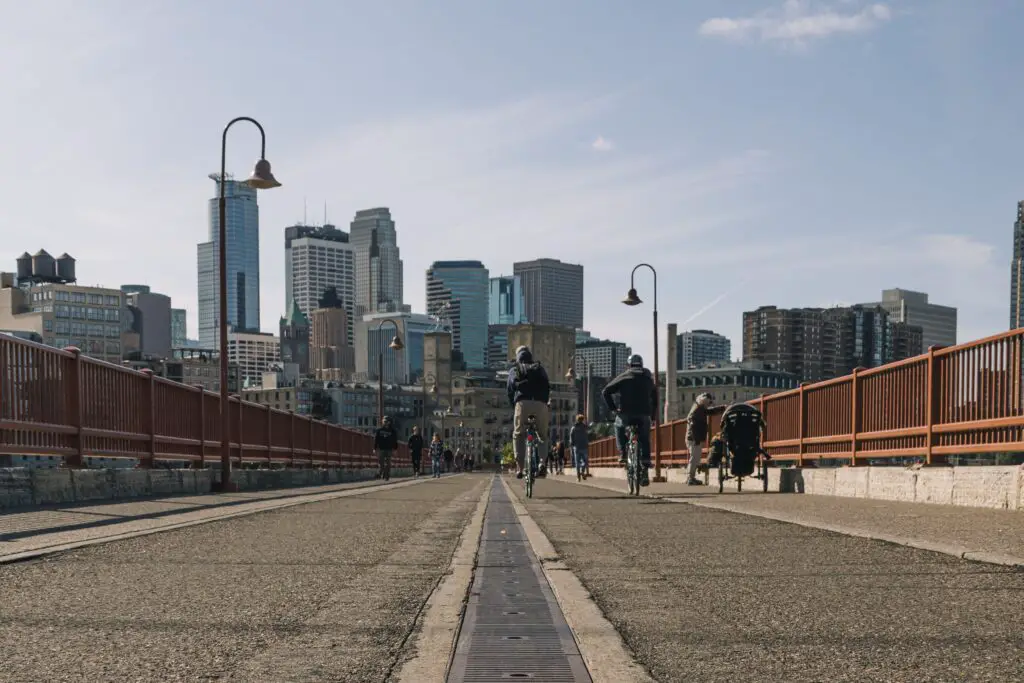 Ok, so this isn't a "State Park," but there is camping available here normally (the campground is currently closed).  Close to the metropolitan cities of Minneapolis and St. Paul, the Minnesota Valley State Trail has two separate sections for biking-one is a paved trail that takes you through the cities of Chaska and Shakopee and is a little over 9 miles long.
If you also happen to have a mountain bike with you, the other section is an unpaved biking trail that goes on for almost 20 miles and takes you through Shakopee down to Belle Plaine, MN.  As you're biking, keep an eye out for animals like beavers and raccoons.  If you're in the Twin Cities during the spring or fall bird migration this area is a must see.  Thousands of birds make their way south along this flyway.
Fort Snelling State Park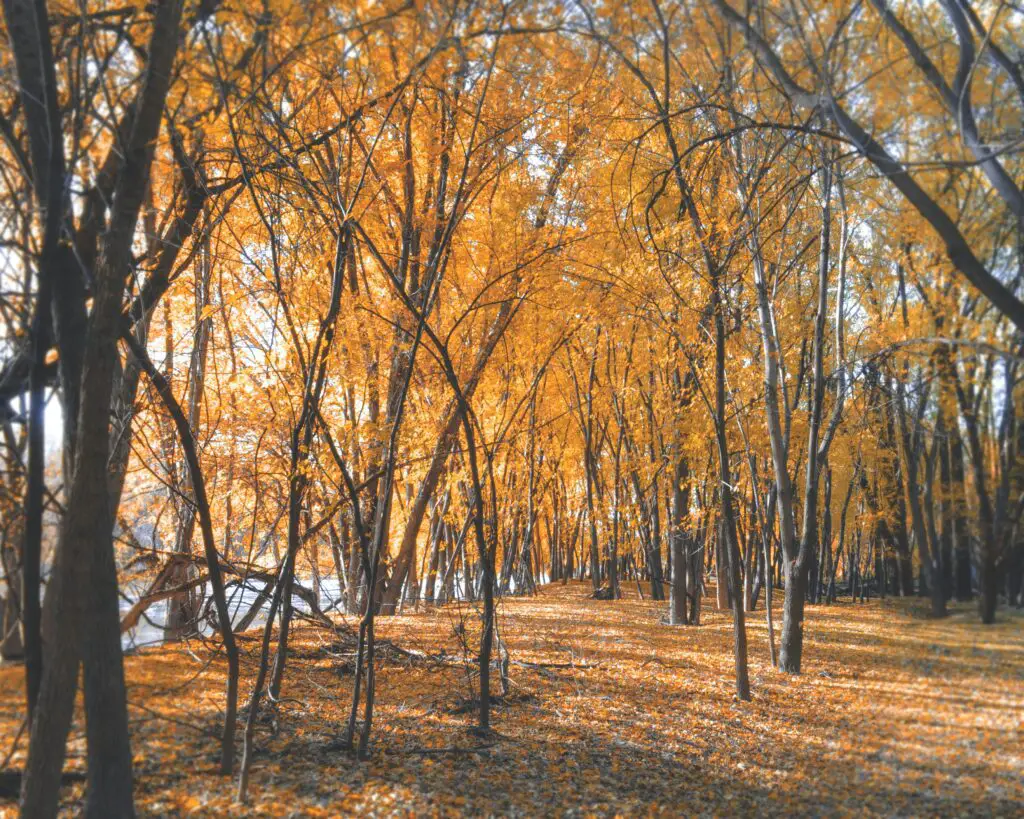 If you want access to biking trails from a state park, this is your park.  Although there is no camping allowed at Fort Snelling State Park, this park is a must see.  Fort Snelling is in the heart of the Twin Cities.  It allows access to a huge biking trail system that makes its way all across the wider metro area.  Grand Rounds Scenic Byway is the more popular of the two paved trails you can choose from.  Check out Minnehaha Park and Falls if you're looking for waterfalls.  Ground Rounds Scenic Byway can also take you around several popular lakes in the area and it can also take you to the downtown area of Minneapolis.
Minneapolis also has great lakes for kayaking.  Check out this article on the best Minnesota lakes for kayaking!
On the southern side of the park is the Big Rivers Regional Bike Trail.  This trail offers 4.5 miles of scenic views overlooking the spot where the Mississippi and Minnesota Rivers join.  This is an easy trail without much of an incline.
Conclusion
Minnesota has so many paved biking trails, it might be hard to bike them all!  Minneapolis is consistently named one of the best cities for biking and Minnesota is in the top three states with the most paved biking trails.  There's so much to see and do along the trails from birdwatching to shopping, and waterfalls to restaurants.  Hopefully this article gives you some ideas on where to spend your time biking in Minnesota!