THIS POST MAY CONTAIN AFFILIATE LINKS, MEANING I GET A COMMISSION IF YOU DECIDE TO MAKE A PURCHASE THROUGH MY LINKS, AT NO COST TO YOU. PLEASE READ MY DISCLOSURE FOR MORE INFO.
Are you planning a trip to southern Wisconsin, but not sure what there is to do?  Beloit, Wisconsin is a city on the southern edge of the Wisconsin border.  The population is a little less than 40,000 people.  From old mills and Instagram worthy parks to popular farmers markets and stores featuring all things apple, here are the 9 best things to do in Beloit, WI.
Known for its beautiful riverfront, unique downtown shops, and historic neighborhoods, there's plenty to see and do here!  This charming city still has that small town feel even with 1,000,000 tourists a year.
Beckman Mill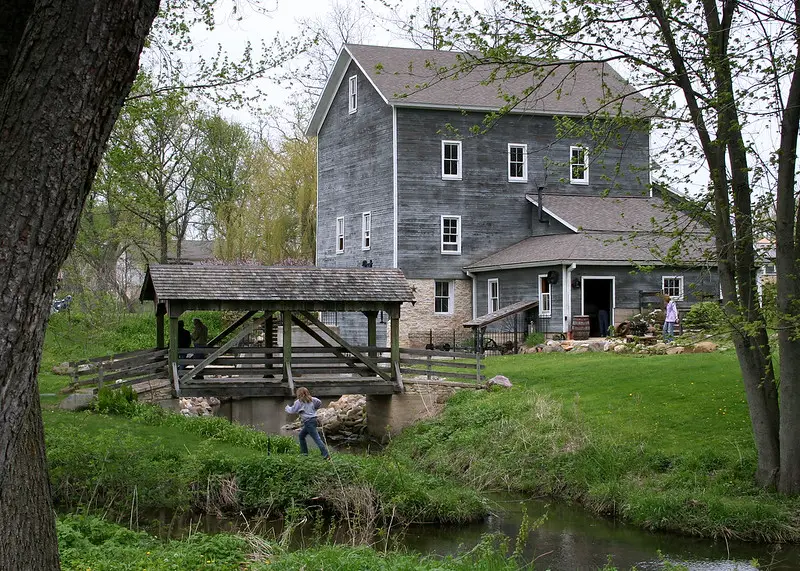 Just 6 miles from Beloit, WI, you will find Beckman Mill.  This 50 acre park has so many things to see and do!  There is a 1868 restored grist mill, blacksmith shop, nature trail, and many more things to do to keep you and your family busy.
Keep in mind that Beckman Mill is only open on Saturdays and Sundays from 1pm-4pm during the months of May-October.  They have a visitor center to learn more about the history of the mill and a gift shop to buy souvenirs.
The park here is absolutely beautiful.  Many photographers take senior and family pictures here.  Bridal parties are brought here for pictures, to.  So if you want some pictures taken, maybe plan to have them taken here.  You won't be disappointed!
Turtle Island Playground
If you have kids, then stopping at Turtle Island Playground is pretty much a requirement!  This playground is huge with a sandbox and different structures that kids can climb.  The house has a lot of different levels and is awesome for kids!  The playground area is fenced with only one entrance, so you can feel safe letting your kid run around.  There is also a small pond and paddle boats that you can rent to paddle around the pond.
They also hold small concerts here every so often, so if you're lucky maybe you'll get to hear some great music during your stop!
Logan Museum of Anthropology
This stop is probably more for adults than kids, unless they're really into history. As a teaching museum, Logan Museum of Anthropology is a great resource on Native American history. Tons of artifacts showcase the history of the land.
The Logan Museum of Anthropology owns hundreds of thousands of historical objects from over a hundred countries. Plan to spend a few hours here to be able to take it all in.
Riverside Corridor Walking and Biking Trail
If you want to get out and enjoy some nature while in the town of Beloit, then the Riverside Corridor Trail is something you should check out.  This 9 mile looped paved trail offers beautiful views of the riverfront.  There are multiple places for you to stop and check out the scenery.  The shoreline was recently restored to feature local prairie flowers.  The trail also features public art along the way as well.
The Apple Hut
If you happen to visit Beloit in the fall then visiting The Apple Hut is a must!  Craving some fresh, crisp apples just picked from the tree?  They have Jonagold, Yellow Delicious, Honey Crisp and more!  They offer 17 different varieties of apples!
If you're looking for baked goods featuring apples, they have that too.  Check out their gift shop where you can buy freshly baked or even frozen pies, apples covered in delicious caramel, apple cinnamon bread, cider donuts, and even apple cider.
If apples aren't really your thing, they also sell other fall themed food like pumpkin bread, jams, squash and more!
If you're lucky and can get there on the weekend you might be able to get some lunch there as well!  There's grilled pork chops, hot dogs, brats, and chili dogs available for purchase.  Check out The Apple Hut Facebook Page for more details.
Bring cash, because they don't accept credit or debit.  They do have an ATM on site, if needed.
Big Hill Park
Big Hill Park, located just outside of Beloit, WI, offers 190 acres of natural beauty.  With views overlooking the Rock River, this park offers something for everyone.  There are 2 playgrounds to keep your kids entertained. There are multiple paved trails for beginners to more advanced hikers.  They offer multiple picnic areas to sit and enjoy a meal, and the Welty Environmental Center offers environmental programs for everyone from kids to adults.
Once a month, The Welty Environmental Center offers a guided Full Moon Hike.  How cool is that?  You'll get to practice walking as silently as possible in the dark forest (no flashlights allowed) while taking in the sights and sounds of nature at night with only a full moon to guide you.
They also offer different birding classes.  One class is all about owls.  You'll get to dissect owl pellets and learn what they eat.  During that program you'll also get to take a night hike to try to hear the owls in the forest.
Another class that is offered is all about winter birds.  You'll get to learn about migration and see migration patterns in real time.  They also teach you how to use a binocular, so you'll have the best chance of seeing these birds from a distance.
Check out these "Best of" articles below!
Best Things to Do in Weslaco Texas
The 6 Best Minnesota State Parks with Paved Biking Trails
8 Best Things To Do In Spanish Fork, Utah
Farmers Market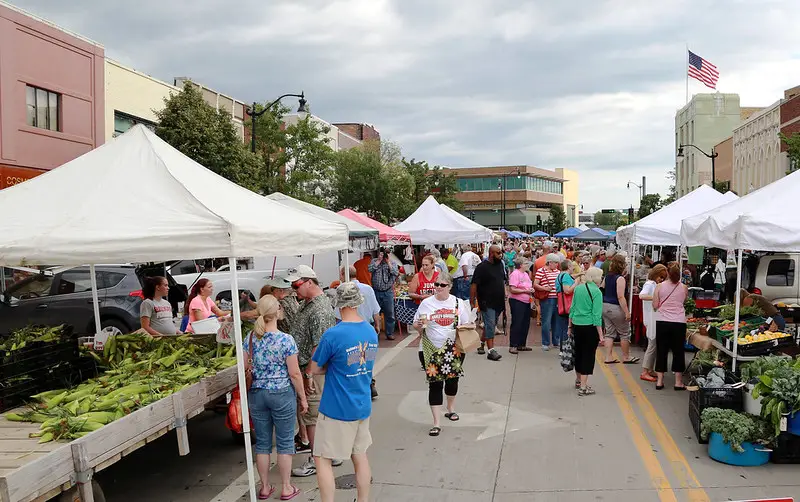 The outdoor Beloit Farmers Market runs from May to October and is held every Saturday.  During the winter months they have a smaller, indoor Farmers Market.
This Farmers Market is a large and very popular community event.  There's live entertainment, so it really feels like an "event."  This is one of the best Farmers Markets you'll find anywhere.  This is an award winning Farmers Market that's been around for 49 years.
As the second largest Farmers Market in the state, they have the usual finds at a Farmers Market.  There's fresh produce and homemade items.  You'll also be able to find fresh meat and cheeses, fresh cut flowers, salsa, baked goods, and so much more.
The outdoor Farmers Market is held in downtown Beloit.  They close down two blocks and have vendors on each side of the street.  While you're there, check out the unique shops and restaurants in the downtown area.  Beloit has that charming, small town vibe that makes you feel like you're someplace special.
Beloit International Film Festival
If you're a film buff, then you need to keep an eye on BIFF.  This 10 day film festival is going on it's 17th year and they just keep getting bigger and better.  Featuring more than 100 independent films, BIFF draws in film makers from around the world.
These films, from all sorts of genres, are shown in venues across the city.  You'll find films being shown in small 40 seat theaters to large 700 seat venues.
You may also be able to ask the film maker questions.  If some of the film makers aren't there in person, you may still get to ask them questions virtually.
Although it's not as well known as the Sundance Film Festival, the Beloit International Film Festival is known as a great alternative.  It's starting to receive national attention and people in the industry are definitely watching.
DC Estate Winery
Just six miles from Beloit, across the Wisconsin border in Illinois, is a great winery!  DC Estate Winery is a great little getaway.  You'll feel like you're in Tuscany, sampling delicious wines and relaxing in the welcoming tasting room.
They have a large variety of wines, so you'll find something you love!  They have the usual Merlots and Chardonnays for the dry wine lovers and Moscato and Riesling for the sweet wine lovers.  Also on the menu are specialty wines with flavors of Cranberry and Peach Honey.  The Peach Honey wine sounds absolutely perfect for enjoying in the fall.  It features a hint of cinnamon along with the peach and honey.  Yum!
Craving a frozen treat while at the winery?  They have wine slushies!  Every week or so the flavors change.  From Cotton Candy and Margarita flavors during the summer months to Cranberry Pomegrante and Fall Harvest Sangria during the fall months, the variety will have you coming back every week.  They also sell to-go packs of wine slushies.  How delicious does that sound?!
It's pretty common for the winery to host food trucks, so you may get to enjoy some tacos or pizza along with your merlot.  Check their Facebook page for upcoming events.  It's updated regularly.
Conclusion
Over the past decade, the people of Beloit have really transformed the city into something special.  With their vibrant downtown and unique shops, it's a very inviting area.  And there's so much to do!  There's fun and interesting things for people of all ages to enjoy!  So if you're in the area, I hope you found something on this list of the 9 best things to do in Beloit, WI that piqued your interest.